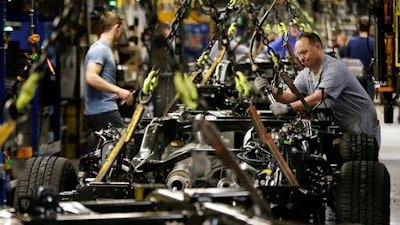 AP Photo/Charlie Riedel
DETROIT (AP) — Ford Motor Co. is cutting production as U.S. demand for new vehicles slows, but so far, its rivals aren't doing the same.
Ford said Tuesday it will temporarily idle four of its North American assembly plants this month to better align production with demand.
After six straight years of growth, U.S. sales of new vehicles are slowing. In the first nine months of this year, U.S. sales totaled 13.1 million new vehicles, up less than 1 percent from 2015.
"This is a roller coaster that's gone to the top," said Mike Harley, an analyst with Kelley Blue Book. "I wouldn't be surprised if other automakers follow suit."
But sales are still near last year's record-high levels, and so far, Ford's chief rivals are sticking to their production plans. General Motors Co. and Fiat Chrysler Automobiles both said Tuesday that all of their plants are operating normally. Toyota Motor Corp. said last month that it plans to increase production of Tacoma pickup trucks at its plant in Baja California, Mexico. Toyota is adding 400 workers and investing $150 million in the plant by 2018.
Dearborn-based Ford warned in July that U.S. sales to individual, non-fleet buyers would likely decline in the second half of this year. Pent-up demand that accumulated during the recession has been satisfied. At the same time, more used cars are hitting the market, competing with new cars for buyers' attention.
Harley said automakers have to trim extra inventory when there's nowhere else to put it. In September, Ford had 78 days' supply of vehicles on dealers' lots, while its luxury Lincoln brand had 101 days' supply, according to Ward's AutoInfoBank. The industry average was 65 days.
"You need to turn off the faucet so you don't flood the yard," Harley said.
Ford has scheduled one-week closures for plants in Kansas City, Missouri, and Hermosillo and Cuatitlan, Mexico. Those plants make the F-150 pickup truck, the Fusion sedan and the Fiesta subcompact. It also scheduled two weeks of down time for its Louisville, Kentucky, plant, which makes the Ford Escape and Lincoln MKC small SUVs.
Ford Escape sales were up 1 percent in the first nine months of this year, while F-Series pickup sales were up 6 percent. But sales of both vehicles were down in September.
Ford says the cuts won't impact its financial guidance. It still expects a pretax profit of $10.2 billion this year.