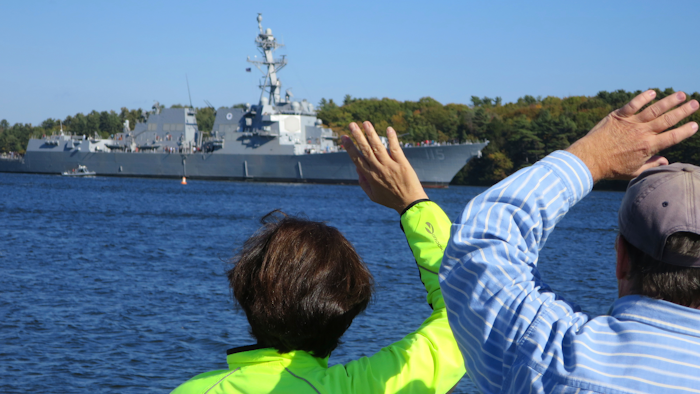 AP Photo/David Sharp
BATH, Maine (AP) — The stealthy USS Zumwalt joined the Navy during a weekend commissioning ceremony, another destroyer departed for builder trials on Monday and five other warships are under various stages of construction at shipbuilder Bath Iron Works.
But many workers don't see much cause for celebration. Rich Nolan, president of the yard's biggest union, said workers are worried about future job cuts and that morale "is as low as I've ever seen it." Shipbuilders approved concessions last December in hopes of winning a Coast Guard contract to preserve up to 1,200 jobs, but the shipyard was underbid.
There's currently enough of a backlog to limit job cuts in the short term, and the shipyard will refocus on winning the bulk of a 10-ship Navy contract next year. But without additional work, the shipyard's 6,000-strong workforce will become smaller through attrition and layoffs in coming years, and shipyard workers are frustrated.
"The Coast Guard loss made everyone feel discouraged. Losing that contract was a blow to the whole company," welder Dana Richardson said Monday. But, he added, "We're going to make it. There's too much at stake."
The future USS Rafael Peralta went to sea for the first time Monday, two days after the Bath-built Zumwalt was commissioned into service in Baltimore. Also under construction are two more ships in the Zumwalt class, along with the Peralta and three other conventional destroyers. The backlog includes another three destroyers.
The failure to win the Coast Guard contract, worth more than $10 billion, was a bitter pill after shipbuilders agreed to concessions aimed at making the yard more efficient. There will be no opportunity to bid on additional work until next year, when the Navy is expected to submit a request for proposals for 10 more destroyers.
Fred Harris, the shipyard president, told workers to focus for now on what they can control: Working efficiently and safely, and hitting deadlines.
"It will take all of us working together, fully engaged, to move this company forward," he wrote in an October newsletter to workers.
While there's some uncertainty about jobs, there's little concern that things will get as bad as they were a decade ago when some Navy leaders thought the shipyard was expendable because there were too few warships being built to support both Bath Iron Works and its chief competitor, the larger Huntington Ingalls shipyard in Pascagoula, Mississippi.
Bath Iron Works' parent corporation, General Dynamics, has invested heavily over the years in improvements. Also, Hurricane Katrina heavily damaged the Ingalls shipyard, underscoring to Navy leaders the advantage of having two shipyards.
"Bath Iron Works is a survivor. I don't think there's any chance at all that Bath is going to go away," said Loren Thompson, a defense analyst at the Lexington Institute, who pointed out that the shipyard remains profitable and that the Navy needs it.
But the shipyard faces challenges in a shrinking shipbuilding budget that's been stretched even thinner by the Navy's decision to builder smaller surface combatants at small shipyards in Alabama and Wisconsin instead of at Bath or Ingalls, he said.
Because of the tight budget, cost is a more important than Bath's reputation for quality, he added.
Nolan, president of Machinists Union Local S6, said it's frustrating that the Navy is focused so heavily on costs rather than the best product for sailors.
"The Navy used to be willing to pay a little bit more for the quality we gave them. Now it's all about the bottom line, and the low bidder wins," Nolan said.