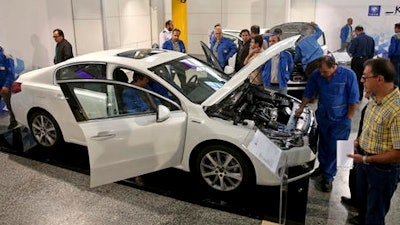 AP Photo/Ebrahim Noroozi
TEHRAN, Iran (AP) — French carmaker PSA Peugeot Citroen has reached a deal with Iran's biggest carmaker to open a plant producing 200,000 vehicles a year, renewing an old partnership with Iran Khodro Co following the lifting of international sanctions.
The two companies showcased five models on Wednesday to be produced by IKAP, a joint venture first announced in January during a visit to France by Iranian President Hassan Rouhani.
Peugeot was a major player in Iran's car market before sanctions were imposed. PSA group says negotiations for the deal began before the sanctions were lifted.
During the Paris auto show last week, French carmaker Renault announced it had reached a deal to make at least 150,000 vehicles a year with the Industrial Development and Renovation Organization of Iran.