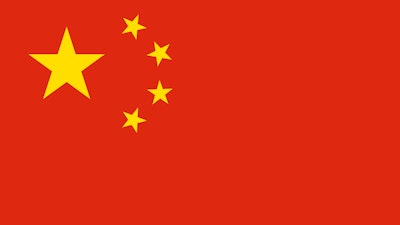 HONG KONG (AP) — Chinese factories eked out a tiny expansion in activity for September as new orders picked up marginally, offering a glimmer of hope for the world's No. 2 economy, according to a private survey Friday.
The Caixin monthly purchasing managers' index ticked up to 50.1 for September from the previous month's 50.0 reading. The index is based on a 100-point scale with numbers below 50 indicating contraction. It's only the second time that the index has signaled an expansion since February 2015.
Chinese manufacturers reported that overall new orders rose for the third straight month while export orders expanded for the first time in 10 months. Factories cut workers at the lowest rate in nine months but the rate of job shedding remained significant, with 8 percent of companies reporting lower headcounts, the report said.
Smaller workforces combined with the growth in new orders added pressure to factories' operating capacity, the report said.
Data on China's outsize factory sector is widely watched for insights into the broader economy, where growth has slowed to its lowest annual rate in a quarter century. Global demand for Chinese-made toys, electronics and clothing remains weak, complicating Beijing's efforts to bolster trade and stop job losses in export industries.
Other recent Chinese indicators have offered glimmers of hope as it grapples with a prolonged slowdown. Industrial profits rose at their fastest pace in three years, according to data released Tuesday, while trade figures released earlier in the month came in better than expected.
Caixin's survey is based on responses from more than 400 firms, most of them small and mid-sized private businesses. The Chinese government is due to release official indexes for factories — mostly larger state-owned companies — and the service sector on Saturday.