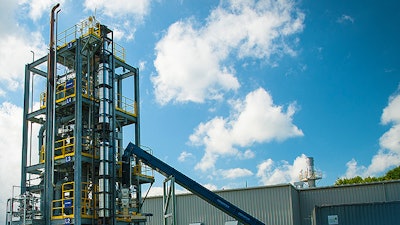 Lockheed Martin
Lockheed Martin opened a new bioenergy facility in Owego, New York, at a ribbon cutting ceremony yesterday. The system, which is now completing commissioning, uses Concord Blue's advanced technology that will convert waste into clean, renewable energy.
"This new bioenergy technology can change the way our world addresses clean energy and waste management challenges," said Frank Armijo, vice president of Lockheed Martin Energy. "At our bioenergy facility in Owego, we're able to reduce our own energy costs while also demonstrating the groundbreaking capability of our technology to potential users."
Prior to the ribbon cutting, Lockheed Martin successfully demonstrated the end-to-end capability of the new system. The demonstration validated its ability to convert waste material into energy for the company's Owego operations, where it designs and builds space-flight hardware, military helicopters and fixed-wing aircraft.
How It Works
This self-sustaining system can transform waste into electricity through a process called advanced gasification. There are four key steps in the process:
Waste Collection: Wood-waste, municipal solid waste, industrial waste and more can be collected and used as input. The Owego facility will initially use wood-waste, with plans to transition to municipal, commercial or industrial waste to create its power in the future.

Waste Conditioning: Metal, glass and other materials are removed, and the waste is dried to specification.

Gas Creation: Proprietary heat carrier spheres are heated and mixed in with the organic waste. Once a certain temperature is reached, the solid waste turns into gas, which then travels to a reforming vessel where the gas is turned into synthesis gas (syngas).

Power Generation: The syngas is then used to fuel a combustion engine that produces electricity. Alternatively, the syngas can also be used to produce hydrogen and biofuels.
Unlike incineration, the process is oxygen-free and flame-free, which means no harmful byproducts are produced, emissions are limited and waste going to landfills is greatly reduced.
What's Next
Building off experience gained during development of the Owego facility, Lockheed Martin and Concord Blue recently began construction on a bioenergy plant in Herten, Germany. The facility will convert 50,000 tons of feedstock per year into 5 megawatts of energy output, enough to power about 5,000 local homes and businesses.
Concord Blue's unique technology benefits the environment, fulfilling all international, Environmental Protection Agency and European regulations for renewable energy and air emissions. Concord Blue operates globally, with offices in the United States, Germany and India.
Lockheed Martin Energy is a line of business within Lockheed Martin that delivers comprehensive solutions across the energy industry to include demand response solutions, energy efficiency, energy storage, nuclear systems, ocean energy technologies and bioenergy generation.