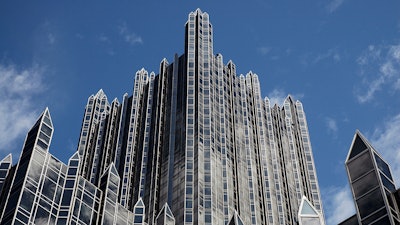 PITTSBURGH (AP) — PPG Industries Inc. has agreed to sell its flat glass manufacturing and glass coatings operations to Vitro SAB for $750 million in cash. The deal, expected to close by the end of the year, will leave PPG with a portfolio dedicated almost exclusively to paints, coatings and other specialty materials.
Vitro SAB, Mexico's largest glass producer, will take over four glass production sites in Fresno, Calif., Salem, Ore., Carlisle, Pa. and Wichita Falls, Texas, as well as four distribution sites in Canada. PPG says its flat glass business has about 1,200 employees.
The Pittsburgh company also reported second-quarter profit of $370 million, with profit of $1.37 per share. The company posted a profit of $337 million for the same period in 2015.
Earnings, adjusted for non-recurring costs, came to $1.85 per share, compared with $1.67 for the same period last year, beating Wall Street expectations. The average estimate of 10 analysts surveyed by Zacks Investment Research was for earnings of $1.84 per share.
The paint and coatings maker posted revenue of $4.06 billion in the period, compared with $4.1 billion in the same quarter last year, missing Street forecasts. Six analysts surveyed by Zacks expected $4.16 billion.
PPG Industries shares fell $1.38 to $108.65 in morning trading, but have climbed 10 percent since the beginning of the year, while the Standard & Poor's 500 index has climbed slightly more than 6 percent. The stock has fallen roughly 1 percent in the last 12 months.
PPG also announced the retirement of Charles Bunch as executive chairman of the board of directors effective Sept. 1. PPG President and CEO Michael McGarry will become chairman and retain his CEO title.
Melanie Healey, formerly of Procter & Gamble Company, has also been elected to join PPG's board of directors, effective immediately.
_____
This story was generated in part by Automated Insights using data from Zacks Investment Research.