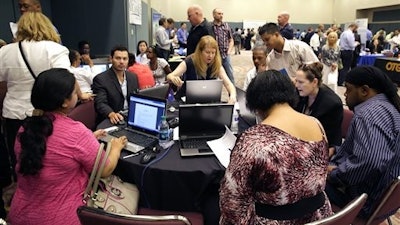 AP file
WASHINGTON (AP) — Fewer people sought U.S. unemployment benefits last week, the Labor Department said Thursday, evidence that employers are holding onto their staffs and may even step up hiring.
THE NUMBERS: Weekly applications dropped 18,000 to a seasonally adjusted 259,000, the lowest in two months. The less volatile four-week average declined to 267,000.
Applications are a proxy for layoffs and have remained below 300,000 for 68 straight weeks, the longest such streak since 1973.
Just 2.14 million Americans are receiving benefits, 4.6 percent lower than a year earlier.
THE TAKEAWAY: The data suggests that a recent slowdown in hiring will be temporary. Employers added just 38,000 jobs last month and an average of only 116,000 in the past three months. That's half of last year's pace.
The cutback came after economic growth slowed in the first quarter to an annual rate of 0.8 percent.
Still, the low level of applications for unemployment benefits adds to recent evidence that hiring could pick back up in the coming months.
And recent research by economists at JPMorgan Chase has found that fewer applications are consistent with steady hiring over time. Not as many people seek benefits when it is easier to find work.
KEY DRIVERS: There are signs the economy has improved in the April-June quarter. Home sales rose to a nine-year high last month, according to the National Association of Realtors, and homebuilding has picked up. Americans have also stepped up their spending at retail stores and restaurants in recent months.
Still, the economy wasn't strong enough to prompt the Federal Reserve to lift the short-term rate it controls during its two-day meeting last week.
Fed chair Janet Yellen said in congressional testimony this week that Fed officials believe the weakness in hiring is temporary. She has previously pointed to the low number of people seeking benefits as evidence that job gains could rebound.