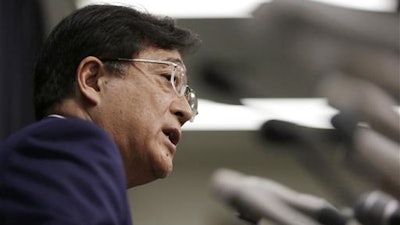 AP Photo/Eugene Hoshiko
TOKYO (AP) — The Japanese government said Tuesday that Mitsubishi Motors Corp. overstated mileage on its vehicles by up to 16 percent, but stopped short of slapping further penalties on the company.
The Transport Ministry said the figure came from its own mileage tests to look into the cheating by the Japanese automaker on its minicar models, tiny cars eligible for tax breaks in Japan and reputed to deliver very good mileage.
Tokyo-based Mitsubishi Motors acknowledged recently it had systematically inflated mileage for eK minicar models, as well as some other models. But it has said it did not lie on mileage on models sold abroad.
Last month, Nissan Motor Co. took a 34 percent stake in Mitsubishi, promising to help a turnaround. Under a special agreement, Mitsubishi had supplied the models to Nissan, which does not make its own minicars. Nissan's own tests had uncovered the mileage cheating.
The ministry said the mileage Mitsubishi initially gave was off by an average of 11 percent and up to 16 percent. That was close to what Mitsubishi had given when it acknowledged its wrongdoing and released new estimates. Mitsubishi is under orders to submit fixed data to the government.
"We find it deplorable that the actual mileage was so much lower," Minister Keiichi Ishii told reporters.
Mitsubishi Motors said last week that it will give 100,000 yen ($960) to each Japanese owner of a car with a false mileage claim to compensate for the extra gas costs and for inflating the mileage figure.
It will take a 50 billion yen ($913 million) charge to cover the mileage-rigging expenses, including for the eK minicar models sold in Japan since 2013, and also for those sold under the Nissan badge.
Mitsubishi's latest scandal follows its massive and systematic cover-up of defects that surfaced in the early 2000s, which had spanned decades. The automaker has repeatedly promised to fix its ethical standards. The company's president has stepped down to take responsibility for the new scandal.