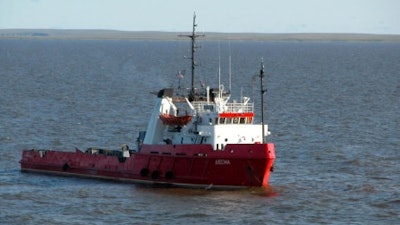 Gazflot
With the continuous search for new gas supplies, companies like Russia-based Gazflot often find themselves in harsh geographical conditions trying to unlock the next reserve of natural gas. Such explorations require robust and reliable equipment to work under some of the most difficult conditions imaginable.
As such, there is a need for genuine partnerships with companies that understand what it takes and are well-positioned to deliver technologies that support more efficient exploration activities.
GE's Marine Solutions was recently awarded a service contract by CIMC Raffles to provide the first dry-dock services on two of Gazflot's semi sub drilling vessels—Northern Lights and Polar Star. During the dry-docking, GE will thoroughly test its scope of supply and will replace and upgrade parts where necessary.
With years of experience in carrying out similar activities, historical data from these vessels, and an understanding of how systems interact with each other, GE is ideally placed as a one-stop solution to carry out the dry-docking of these vessels. This dry-docking will enable Gazflot to continue operating its vessels at optimum levels.
The two vessels were equipped with GE technologies including dynamic positioning, automation, drilling drives, MV 7000 propulsion drives, Power Management System, Vessel Management System and Thruster Assisted Mooring System.
These technologies have been reliably at work on Gazflot's ice class vessels, which are capable of drilling up to 10,000 feet in the adverse conditions in Northern Russia. Through the current contract, GE's team of on-site engineers will ensure the longevity of installed systems while working with the yard to supervise the dry-docking activities.
After the dry-docking, GE will continue to provide remote technical support for the Northern Lights and Polar Star semi sub drilling vessels.