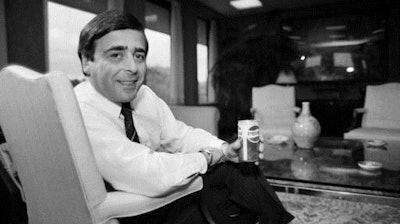 AP Photo/G. Paul Burnett, File
NEW YORK (AP) — Former PepsiCo CEO Roger Enrico, who helped lead the soda company during the "Cola Wars" advertising battle with Coca-Cola in the 1980s, has died, PepsiCo said Thursday. He was 71.
Enrico was with PepsiCo for more than 30 years and retired in 2001, according to the company. PepsiCo, based in Purchase, New York, did not have a cause of death or other details.
Enrico was credited with signing pop star Michael Jackson and other celebrities for Pepsi ads and pressuring rival Coca-Cola.
In his book, "The Other Guy Blinked," Enrico recalled how the company tried to capitalize on Coke's disastrous introduction in 1985 of "New Coke," which was supposed to be sweeter than Pepsi. That included Pepsi placing a newspaper ad extending the "warmest welcome" to the "New Pepsi Generation," signed by Enrico.
PepsiCo CEO Indra Nooyi called Enrico "one of the most creative marketers of his or any generation."
"Today is an incredibly sad day for the PepsiCo family, for we have lost one of our true legends of our company and our industry," Nooyi said in a statement.