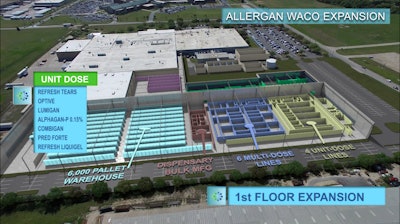 (PRNewswire) Allergan plc, a leading global pharmaceutical company, has broken ground on a $200 million expansion of its Waco, Texas facility. The expansion will add 322,000 square feet of manufacturing space - nearly doubling its current footprint. Once completed, the expansion is expected to add approximately 100 full-time jobs, with the potential for as many as 250 full-time jobs as the facility reaches full utilization.
New positions that will be added include chemists, microbiologists, process engineers and production and maintenance technicians.
The facility expansion will also upgrade the company's manufacturing capabilities and capacity. The expansion will add a new raw material dispensary, an automated bulk formulation suite and 10 new production lines, as well as warehousing space. Upon completion, the Waco facility will be capable of producing more than 40 different product formulations and will increase its production capacity by more than 50 percent.
The construction, commissioning and validation of the facility expansion and production processes are expected to be completed by 2020. Allergan's Waco facility is the Company's flagship manufacturing facility for its leading eye care products, including Restasis, Lumigan, Combigan, Refresh Plus, Refresh Tears and Latisse.
Tom Kelly, Ph.D., Baylor Center for Business & Economic Research in Baylor's Hankamer School of Business provided an economic impact analysis, which showed:
Including multiplier effects, the expansion will add $380 million to the Central Texas economy during the construction period.
During the first year of construction the total economic impact of Allergan capital investment, plus operations on the Central Texas economy is projected to increase to $522.3 million from a previously projected $450.3 million in 2016.
During the remainder of the construction period the average annual economic impact of new capital investment will increase to $72 million per year.
Upon completion of the capital expansion, Allergan's annual economic impact on the Central Texas economy will be $461.3 million compared with the previously projected $407.2 million per year.
Allergan employs more than 750 skilled workers at the current 400,000 square-foot facility located on a 69-acre campus in Waco's Texas Central Park. Allergan opened the Waco facility in 1989, Allergan is headquartered in Dublin, Ireland. It focuses on developing, manufacturing and commercializing branded pharmaceuticals, generic and over-the-counter medicines, and biologic products.