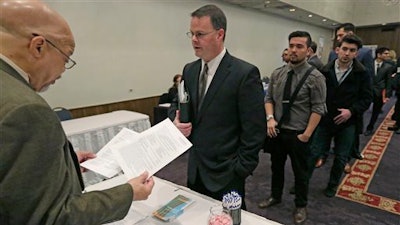 AP Photo/M. Spencer Green, File
U.S. employers notched another solid month of hiring in March by adding 215,000 jobs, driven by large gains in the construction, retail and health care industries.
Despite the jump, the Labor Department said Friday that the unemployment rate ticked up to 5 percent from 4.9 percent. But that increase includes some good news: more Americans came off the sidelines to look for work, though not all found jobs.
That is the fifth time in the past six months that the proportion of Americans working or looking for work has increased, an encouraging trend after that figure fell to four-decade lows last year.
The increase in the work force "has been truly astounding - the strongest in over two decades, suggesting that the job market is finally pulling discouraged workers off the sidelines," said James Marple, an economist at TD Economics.
The data suggests that employers remain confident enough in their business prospects to add staff, even as overall growth has slowed since last winter. Many analysts estimate that the economy grew at a 1 percent annual rate or below in the first quarter. Continuing job gains indicate that employers may see the slowdown as temporary.
Steady hiring is also contributing to somewhat higher pay. Average hourly wages rose 2.3 percent from a year earlier to $25.43. Annual wage gains have improved since the early years of the recovery, but they are below a peak of 2.6 percent reached in December.
Sluggish wage growth has been a weak spot in the economy and a source of frustration for many workers since the Great Recession ended in 2009. Paychecks typically grow at a 3.5 percent pace in a strong economy.
That frustration has spilled over into widespread demands for a higher minimum wage. California approved a measure this week to lift its minimum to $15 an hour by 2020, more than double the current federal minimum of $7.25. New York lawmakers have also agreed on a $15 minimum by 2018.
Heavy hiring by low-wage employers is likely one driver behind the demands for greater pay. Retailers added 47,700 jobs last month and have created 358,000 in the past year. Hotels and restaurants gained 26,000 jobs in March.
That hiring has been offset by some higher-paying positions. Construction firms added 37,000 jobs last month, likely aided by warmer weather. Financial services companies added 15,000 jobs and professional and business services, which include engineers, accountants and lawyers, added 33,000.
Manufacturing, which has been hit by slower growth overseas, posted another month of job losses. Mining, which includes the oil and gas drilling sector, also cut jobs. Low oil prices have cost that industry 185,000 since September 2014.
More jobs can help fuel consumer spending, which is a critical source of growth this year. Other potential drivers of the economy, such as exports and business investment, have weakened.
Consumer spending has faltered since last winter after healthy gains in 2015. Spending ticked up just 0.1 percent in February for the third month in a row. That tepid trend caused many economists to slash their growth forecasts.
Americans appear to be pocketing much of their savings from lower gas prices rather than spending them. The savings rate rose to 5.4 percent in February, the highest in a year.
Other economic data has been unusually mixed.
Several reports suggest that manufacturers may be stabilizing after a difficult 2015, when weak overseas growth and the strong dollar hurt production.
Meanwhile, Americans have pulled back a bit from home-buying. Sales of existing homes fell a sharp 7.1 percent in February, held back by a lack of available supply that has pushed up prices.