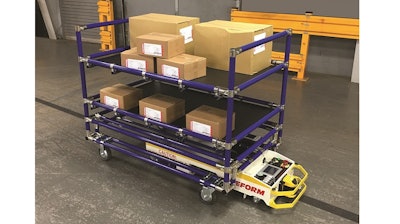 Creform Corporation (Greer, SC) will feature several of its products in booth B4963, at MODEX 2018, April 9-12, 2018, Atlanta, GA. Highlights of the exhibit will include:
Creform AGVs, which can control up to 50 courses with 128 commands each via HMI touch screen and built-in RFID for traffic control, and with load capacities to 1,320 lb., depending on floor conditions.
A 42mm pipe and joint heavy-duty work station, built using Creform 42mm plastic coated pipe and metal joints with a variety of Creform accessories. Creform workstations feature an ergonomic lift system with various load ratings capacities available and have an adjustable stroke for positioning the work surface to fit an associate's stature.
A 42mm flow rack with wide Placon conveyors, which allows for the handling of heavy totes and assures the totes can be easily moved from conveyors to work areas.
www.creform.com; 800-839-8823