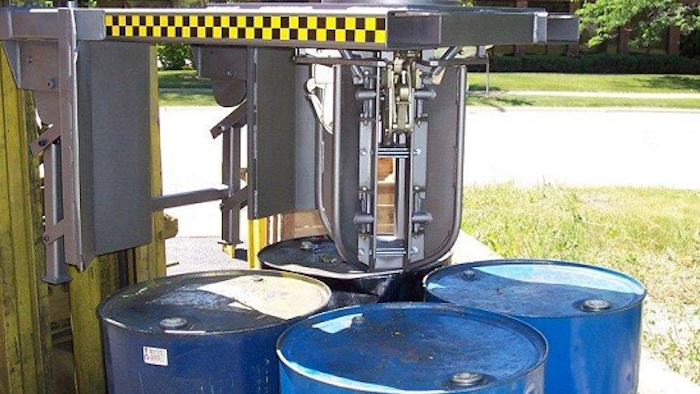 The New L4F-QC drum handling attachment from Liftomatic (Buffalo Grove, IL) is designed with an automatic locking cam device that eliminates the need for a safety chain to secure the handling device to the forklift. Operators no longer need to get on and off the forklift to attach the bulky and cumbersome chains. The fork locking mechanism engages when the attachment is lifted from the ground, which prevents the attachment from moving on the forks. When the unit is lowered to the ground, the locking cam retracts, allowing the operator to slide out easily from the attachment.
Other features include:
Liftomatic's exclusive "Parrot-Beak" clamping system to quickly and safely handle 1,2,3, or 4 rimmed steel, plastic and fiber drums simultaneously in loading or unloading operations, pallet change outs, warehouse stacking, fill-line applications or any user environment where unitized handling of drums is required.
Automatic and mechanical operation, meaning no hydraulic or electrical connections are ever necessary.
Availability with spark resistant and "EE" rated components.
An 8,000-lb. total capacity (2,000-lb. per drum).
www.liftomatic.com; 847-325-2930