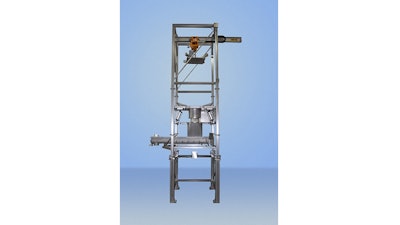 Material Transfer & Storage (Allegan, MI) introduces the Stainless Steel Material Master Bulk Bag Discharging, Weighing & Feeding System. This patented system features heavy-duty stainless steel construction with an integral screw feeder and loss-in-weight load cells for material batching. The unit includes a 6" square structural tube lower frame and a bulk bag support pan for operator safety. Additional features include:
A Seal-Master bag spout chamber with "gull-wing" doors for ergonomic discharge spout access.

A Flo-Master bulk bag massaging system, promoting material flow.
A powerful Flo-Lock slide gate which halts material flow for partial bag discharge.
www.materialtransfer.com; 800-836-7068