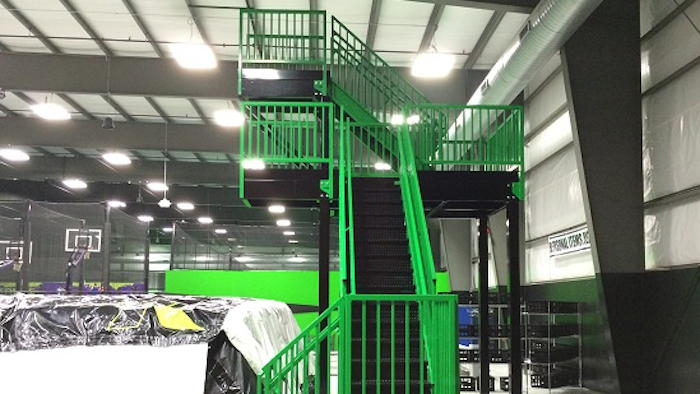 Xtreme Air in Appleton is Wisconsin's largest trampoline and rock climbing park featuring a three story rock climbing wall, basketball and dodge ball courts, and over 12,000 square feet of trampolines. However, they needed help when it came to developing a launch pad for their Xtreme Jump attraction. The tower needed to optimize space and safety all while maintaining the aesthetic of the facility. Co-owner Steve Steidl asked the team at New Berlin, WI-based Cubic Designs to come up with a unique solution with the following objectives:
Create a tower with the smallest footprint possible.
Create access to two different jumping platforms with only one staircase.

Find a perfect color to match the established branding of the facility.
Challenge: Combining Safety and Functionality
Xtreme Air's guests are often children and this means that safety is especially important. This tower needed to have a small footprint and a single set of stairs to access both the 12 foot and 18 foot jumping platforms. Additionally, there needed to be a way to ensure only one jumper was able to be on the platform at a time. Furthermore, Xtreme Air had already established a color scheme for their facility and the tower needed to work with the overall theme of the center.
By working closely with Steidl, Cubic Designs' Regional Manager and Engineering team were able to create a completely custom solution. The team was able to design a tower that allowed both platforms to be accessed by a single set of stairs. This means that it is easier for Xtreme Air to monitor who is on the tower at any given time. Barrier gates were created which allowed only one jumper to approach the jumping surface at a time. Additionally, the gates eliminated the opportunity for two people to jump simultaneously off of different platform heights. Cubic Designs was also able custom match the powder coat paint for the tower to the existing neon-green trampoline pads.
 "From beginning to end, Cubic Designs' team did a fantastic job," says Steidl. "This project came in on budget, on time, and installation by Cubic Designs' sister company, Accurate Installations, was minimized to two days. The final product is both visually pleasing and safe."
www.cubicdesigns.com; 800-826-7061