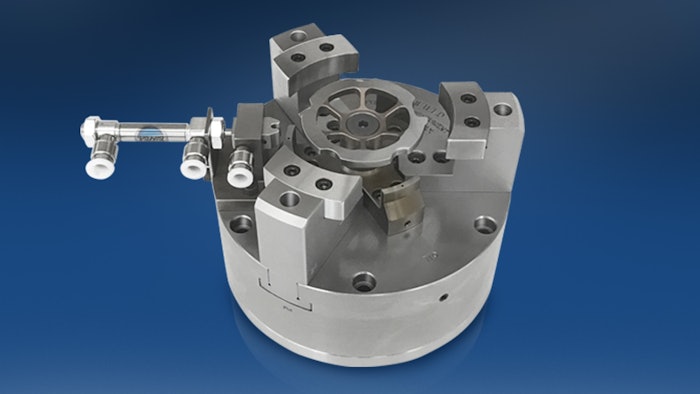 Northfield Precision Instrument Corporation (Island Park, NY) recently addressed the specific needs of a customer with a design for its precision workholding chucks. The customer came to Northfield in search of a chuck that would allow their precision sprocket to be positioned in the chuck only one way, in order to assure a properly timed gear part. It would have to work with a range of gear diameters. Northfield's engineers customized their NF-650 air chuck with special tooling to meet these requirements. These modifications consisted of:
A locating ring to ensure one-way loading.

A custom axial locator, with air detect seat sensor holes, guaranteeing positive part seating.
Custom top tooling that includes an adjustable air-actuated orientation key to time the work piece off of gear teeth.

An orientation key to support air detection as well, to ensure part engagement.

Custom designed and dedicated sub-jaws, ground to accept changeable inserts for a range of gear diameters. Inserts can be easily changed out and still repeat to .0001'' TIR.

 
www.northfield.com; 800-810-2482