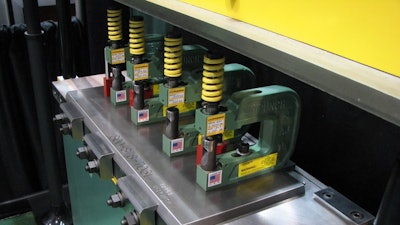 Betenbender Mfg. (Coggon, IA) announces the availability of the UniPunch C-Frame modular hole punching systems, used for punching material such as sheet metal, aluminum extrusions, angle iron, stainless steel and plastic. According to Betenbender the UniPunch modular hole punching system produces more holes per press stroke than any other system. Features include:
The option to make a large variety of different hole shapes that include hexagon, octagon, quad D, single and double D, equilateral triangle and more.
The ability to perform corner, edge, and vee notching. Other capabilities of UniPunch tooling include pipe and tube punching, coping and notching.

Hole dimensions of C-Frame punches ranging in diameters from 3/32" up to 5".

Quick set-up for operator end users.
Maximum punching accuracy for producing high quality parts.
www.betenbender.com; 319- 435-2378