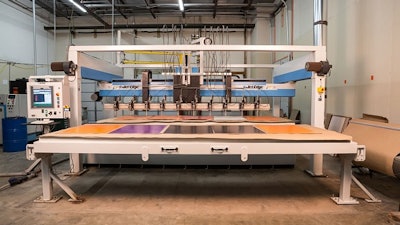 Jet Edge (St. Michael, MN) introduces its latest generation of Waterjet Shuttle Systems. Designed especially for high-volume water-only waterjet cutting applications, Jet Edge Waterjet Shuttle Systems dramatically increase productivity by allowing operators to continue cutting as they unload finished parts, says the company. Manufactured for industrial use, Jet Edge waterjet shuttles are available in a High Rail Gantry format supporting up to 12 cutting heads or a Mid Rail Gantry format supporting up to four cutting heads. To operate the shuttle, the operator simply rolls out the top cutting table like a drawer and continues cutting on the bottom table as parts are unloaded. Powered shuttles are also available. Other features include:
Availability in a wide range of sizes; an optional spreader bar allows operators to expand the cutting area beyond the waterjet gantry for cutting large sheets.
Jet Edge's signature Aquavision Di controller, the most advanced motion controller in the industry. This guides the user through the process from job set-up to production. Single parts, mirroring, rotation, plate alignment and part arrays (optional) are at the operator's fingertips. It is fully networkable.
Industry-leading precision and accuracy, holding +/- 0.001" linear positional accuracy (over 12") per axis and +/- 0.001" repeatability (bi-directional).
Moving elements supported on THK linear ways; precision ball screws directly coupled to servomotors and XY mechanical components protected by a lip seal system. Critical motion components are protected with metal covers, brushes, labyrinth passages, lip seals, and high-volume low-pressure filtered air.
A wide range of waterjet pumps, including 36,000 psi, 60,000 psi and 75,000 psi models available from 30-280 hp.
www.jetedge.com; 800-JET-EDGE