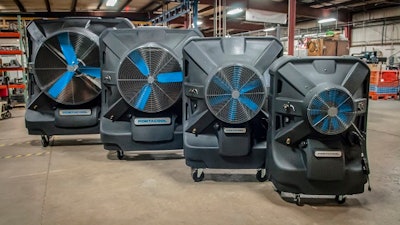 The new Jetstream series of evaporative coolers from Portacool (Center, TX) feature revitalized designs that generate significant airflow and provide superior cooling options for a variety of work environments. Available in four sizes, customers can select the Jetstream evaporative cooler that will best accommodate their space with cooling area options ranging from 1,125 to 5,625 square feet. The Portacool Jetstream 240, 250, 260 and 270 are equipped with KUUL Comfort evaporative media, a high quality evaporative media made in the USA exclusively for Portacool products. Features include:
Four variable speed options to meet any cooling need.
Air delivery ranges from 4,500 to 22,500 CFM.
Velocity ranges from 24-29 mph depending on the evaporative cooler selected.
A liquid level indicator with automatic pump shut-off.

A large drain allowing for easy, effective cleaning.
Built-in handles for easy mobility; heavy-duty casters.
The Portacool Protect lifetime warranty on evaporative cooler housing against manufacturing defects; three-year warranty on all electrical components.
Made in the USA with domestic and global parts.
www.portacool.com; 800-695-2942