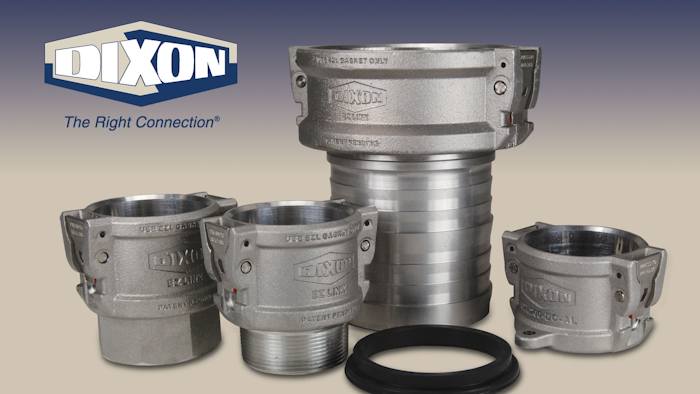 Dixon (Chestertown, MD) introduces its new EZLink Armless Cam & Groove product line. EZLink is an innovative product design that features an armless positive locking system; simply push to connect the EZLink coupler to any standard cam & groove adapter to achieve an ultra-reliable connection. In addition, the product's low profile allows for easy connection and disconnection in tight applications and operating conditions. The EZLink's innovative engineering is in stark contrast to conventional cam & groove products. EZLink is easier to connect, and the new design also requires less maintenance since there are no cam lever arms that tend to break and need replacing. Product line features include:
2", 3" and 4" type B, C, D and dust caps in aluminum.
A standard black Buna nitrile rubber seal. In development is a low temperature seal as well as a chemically resistant seal. A stainless steel EZLink offering is also planned.
A356 aluminum bodies, type 316 stainless steel coupler tabs and springs, along with a Buna-N gasket, dramatically improving the ability to transfer or unload gasoline or diesel fuels from tank trucks to storage facilities.

Coupler push tabs that can be locked with safety pins and/or a zip tie.
www.dixonvalve.com/ezlink; 800-355-1991