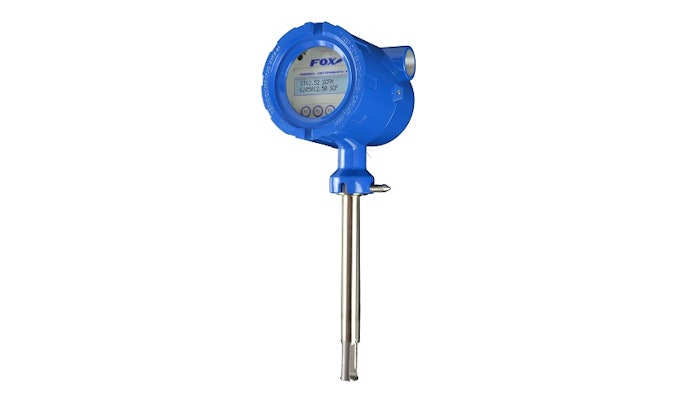 Fox Thermal Instruments (Marina, CA) has announced the launch of the Fox Model FT4A Thermal Mass Flow Meter, ideal for serving the oil & gas, wastewater and industrial process applications. The FT4A is a high-end flow meter, says the company, and it features a robust design. Among its advanced features are:
2nd generation non- cantilevered DDC-Sensor -Advanced Direct Digitally Controlled sensor technology.
Expanded Gas-SelectX Menus – 3 onboard gas selection menus.
CAL-V - In Situ Calibration Validation Routine.
RS485 Modbus RTU or HART - Optional Communication Protocols.
Standard USB Port – Gain Direct Meter-to-PC Connections.
FT4A View - Software for configuring, graphing, and Logs.
The FT4A is equipped with the 2nd generation of DDC-Sensor that eliminates the sensor element vibration which can lead to metal fatigue and failure. Its unique design provides a technology platform for calculating accurate gas correlations for the Gas-SelectX feature. The FT4A's CAL-V feature allows users to confirm that the meter is functioning properly and accurately -- with just a simple push of a button. Other FT4A features include:
One standard 4-20mA output for flow or temperature.
A second output selectable for either pulse output (pulses per unit/units per pulse) or Modbus RTU.
www.foxthermalinstruments.com; 831-384-4300