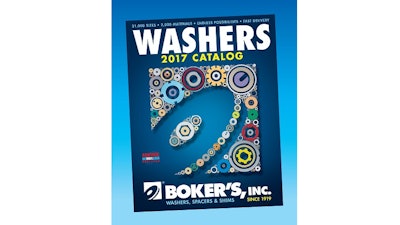 Boker's, Inc. (Minneapolis, MN) announces that its 2017 Washers Catalog is now available. The 64-page manual offers an all-inclusive reference guide for flat washer selection. This catalog offers detailed information on the company's more than 31,000 non-standard flat washer tools. Washers are available in a wide range of materials and sizes along with secondary operations from deburring, tapping to counterboring and more.
Included in the catalog is Boker's stock tool options sorted by outside/inside diameter, with outside diameters from 0.080 inches to 5.140 inches, as well as a range of thickness availability. The washers catalog serves as a useful reference tool for the company's diverse offering of flat washers available in U.S. and metric sizes. All orders can be manufactured in short, medium and long production runs.
The washers catalog also demonstrates Boker's custom manufacturing capabilities. With over 2,000 materials, including non-metallic, metallic and superalloys for greater heat and corrosion resistance, washers are manufactured to meet specific product specifications.
www.bokers.com; 800-927-4377