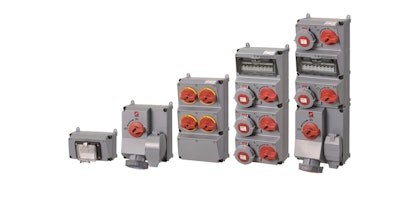 Custom power distribution centers provide measurable economies of scale which provide benefit to plants in a wide range of applications. The AMAXX enclosure system by MENNEKES offers an affordable solution for configurable power distribution for applications specific customization. According to MENNEKES, one AMAXX unit replaces multiple receptacle installations, saving users labor, material and space. Additional features include:
Flexibility. An endless number of made-to-order, pre-wired customization options give users complete flexibility to meet current and growing needs. RoHS compliant and environmentally-friendly AMAXX modular systems are available in five sizes and are made to scale with a broad range of wiring device options including pin & sleeve receptacles, switched & interlocked receptacles, convenience outlets and more.
Time Savings. Installation of the AMAXX enclosure system is quick and easy. Wiring instructions are also available on the MENNEKES website, and field installation is facilitated with the availability of pre-wired factory units.
Fast Delivery. In-stock AMAXX systems are available for fast delivery in a single gang to a five gang model. Even with in-stock systems, customers still have the flexibility to create a power distribution center that's tailored to their specific needs.
Versatility. AMAXX enables users to create the right customized solution to meet multiple installation needs. AMAXX non-metallic enclosures and module plates are molded with heavy duty thermoplastic materials and have a NEMA 4X enclosure rating. Units can be ganged together or used individually, offering numerous installation options. Additionally, IEC 60309 switched and interlocked receptacles can be combined with NEMA devices in one assembly. Enclosures are hinged for easy access to interior components, which facilitates field wiring.
www.mennekes.com; 800-882-7584