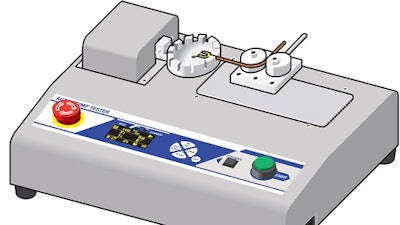 The ACT-220 from IMADA (Northbrook, IL) features easy-to-use menus to select units, test speed, destructive or non destructive testing and hold duration that simplify crimp test programming. The EL electro luminescent display is easily seen in dark or bright locations, and the unit saves up to 26 individual wire crimp test profiles in memory. The wire terminal grip has 12 slots which accommodate wire diameters from 1~8mm. Features include:
Destructive and nondestructive test modes.

Force hold duration up to 999 seconds in 1 second increments.
Color-coded LED indicators for Go/No Go testing.
Selectable digital speeds 10/25/50/100 mm/min.

Saves up to 26 test configurations in memory.
EL electro luminescent display, highly visible in the dark or bright sunlight.

Time and date stamp.
Selectable units: lbf, kgf, and N.

1,500 data memory for recall or download (RS-232C output).

Kit includes terminal grip, wire cam grip, ACT Logger data acquisition software, USB cable, calibration cert traceable to NIST.
www.imada.com; 847-562-0834