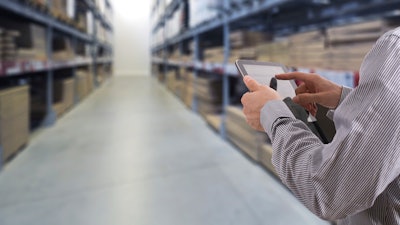 Every day, industrial equipment facilities move materials, parts, finished products and information. Those who do it best – often by implementing effective systems that help manage inventory and facilitate processes – can expect to gain ground on their competition.
Fluctuations in demand, coupled with the changeable nature of the supply chain, create volatility and risk. That risk can be minimized with lean manufacturing approaches, which help reduce inventory levels to appropriate amounts, ensuring that industrial equipment manufacturers neither have to stop production because a vital part is unavailable nor store extra inventory before it is needed.
A key part of making lean management work is implementation of a system that helps maintain a smooth and disciplined supply chain flow to line up operations with real-time variations in customer demand. For Brookville, Pennsylvania-based Miller Fabrication Solutions, that system has been Kanban (pronounced "kon-bon"), best known as a supply chain management approach that originated with Toyota in the late 1940s.
Motivation For a Leaner Supply Process
In the closing months of the Great Recession, Miller began seeing its sales bounce back to levels it hadn't experienced since before the downturn. The metal fabricator, which specializes in producing parts and assemblies for heavy equipment manufacturers, wasn't ready for the influx of business. It had maintained a smaller-than-usual staff throughout the recession and couldn't shore up resources quickly enough to meet the renewed product demand. Customer relations suffered when deliveries were late and parts quality no longer lived up to the standards of Miller or its customers.
A fundamental problem was that Miller operated as a "push" fabricator, scheduling parts to arrive based on a forecast, rather than based on specific project needs. While Miller used a reliable enterprise resource planning (ERP) system, that system couldn't account for variables that inevitably occur in the supply chain and on the manufacturing floor, leaving the company in a persistent state of having either too few parts to meet daily needs or having a stockpile of more parts than were necessary.
The company began studying lean management techniques that might address the problem, eventually sending several executives to Japan to look at a Toyota supplier's implementation of the Kanban system. Among other goals, Miller hoped to learn how the supplier had integrated Kanban into its existing ERP system. The executives anticipated Miller might be able to emulate that process.
Company leaders were surprised to learn, however, that the Toyota supplier, which was producing 8 million parts monthly for the car maker, didn't even know what ERP was. Instead, Kanban was the supplier's only parts management system. And, with it, the supplier was seamlessly providing parts to Toyota multiple times each day. Seeing the capability solidified Miller's resolve to implement Kanban.
Supporting Lean Facilities
In the manufacturing process, Kanban utilizes visual signs – often hard-copy or electronic instruction cards – to indicate the near-depletion of a component part. The sign prompts the upstream processes to replenish the parts that have been consumed. In many cases, because Kanban supports just-in-time manufacturing, the upstream process may be providing parts on a daily basis.
One of Miller Fabrication Solutions' business mainstays is the production of turntables for boom lifts. For its pilot Kanban implementation, Miller identified one turntable to begin using Kanban to replenish component parts. Miller chose to use a Kanban card as the signal to execute what the ERP system had planned to produce. If the card was not pulled, the production of parts would not begin. Miller has three facilities, and the Kanban card would signal production for these pilot parts.
Using the Kanban system, Miller caught up on its turntable backlog within just two weeks. Overstocking of parts was eliminated, and the company no longer ran short of parts during production. The company quickly saw the benefit of executing Kanban and eliminating the ERP system to schedule its work centers.
By fall 2019, Miller had incorporated all 192 of its component turntable parts into the Kanban system and, by the end of the year, a third production line had begun operating with Kanban.
Having now used the system for six months and implementing it across all nine of the turntables the company manufactures, Miller now can ensure that parts are readily available in the exact amounts and at the exact times they're needed. Work-in-process velocity has fallen from 10 days to seven. Overall inventory has dropped from $2.3 million to $1.6 million.
The Kanban implementation results have spurred the company to further evaluate how it might use Kanban to replenish the parts it ships to customers. Miller also has begun partnering with its suppliers to replenish parts with Kanban versus producing to a forecast.
Deploying lean systems like Kanban in industrial equipment facilities requires intentionality. It includes a commitment from manufacturers and suppliers to work together strategically. It isn't necessarily easy, but in the effort, both can become more responsive to customer needs and help create a leaner, more flexible industry.
Rich Steel is Director of Lean Manufacturing at Miller Fabrication Solutions, a strategic supply chain partner offering metal part manufacturing and value-added solutions for global OEMs. Visit www.millerfabricationsolutions.com for more information.