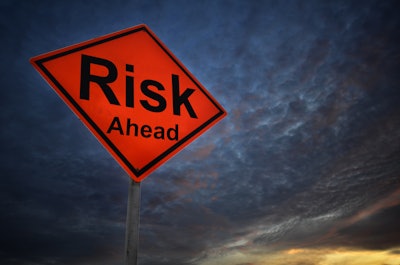 It goes without saying that the manufacturing industry is flooded with risk. This is becoming even more evident as global supply chains are growing deeper and more complex. This makes it harder to manage all the information necessary to ensure supply chains are operating in an effective and ethical manner. Issues can arise with little-to-no warning and not all manufacturers are capable of handling these kinds of unexpected obstacles. These new and emerging risks can have long-term ramifications that greatly impact the credibility and reputation of a manufacturer.
A 2018 incident with Ford shows the impact that short-term risk can have on an organization. In May one of Ford's supplier facilities, which supplied a large majority of parts for their popular F-150 line, experienced a fire that prevented plants from operating and caused downstream effects across the country. As Ford's biggest source of profit, having only one main supplier of critical F-150 parts posed a significant supply chain risk. Fortunately, because of Ford's size, they were able to overcome such a roadblock—but if a similar situation had happened to a smaller manufacturer, they may not have been as fortunate.
The way risk events are handled in a manufacturing environment is critical. A poorly-managed moment of crisis can slow, if not completely shut down, production—having a direct impact on a manufacturer's bottom line, as well as causing reputational damage that can have long-term financial impacts. This places greater emphasis on having an alert system and mitigation plans in place to monitor and manage risk events as they arise. These will ultimately aide in preventing a destructive and fast-moving ripple effect that can have long-term consequences.
Localizing Potential Risk at the Source
Identifying and planning around the leading problems of long-tail risk, or an event that can cause long lasting impacts, is critical for manufacturers to manage their suppliers and safeguard top performance. As business has become more global in nature, it has increased the level of complexity manufacturers are dealing with, and making enhanced visibility critical for risk management.
Garnering further insight into the supply chain is an important next step for companies to achieve better transparency. Few companies have clear visibility into their supply chain below tier-one suppliers. Technology can now assist manufacturers to identify risks deeper in the supply chain and act more quickly and effectively. Whether the risk is reputational, geopolitical, weather, cybersecurity or financial or otherwise, speed is critical to mitigating the threat and it all begins with insight. Being able to holistically view and strategically manage risk will be a core competency for all manufacturers to thrive in the future.
No longer is it acceptable to take a manual, reactive approach to risk management. The most efficient way of mitigating risk is to enforce a reliable supply chain risk management strategy that will allow manufacturers to help establish and manage strong supplier relationships, reduce supplier slowdowns and help to ensure that a company is operating under proper government regulations.
Implementing advanced technologies, such as AI, will allow organizations to have large amounts of risk data from a variety of outlets at their fingertips, such as news media and third-party data sources. With access to so many available channels, manufacturers can have ongoing risk monitoring practices in place within their own business to alert employees about risk in real-time, no matter where or when it's happening.
As complexities in the manufacturing industry and today's global supply chains continue to grow, it is more imperative than ever to be proactive when it comes to risk management. Without proper strategies in place to identify and assess production risk, a small incident can cause a ripple effect and turn into a long-term crisis. Thankfully, advancements in digitalization have made the risk management process much simpler, making broader risk management available to all manufacturers, no matter their size.
Bill DeMartino is the General Manager, North America at riskmethods.