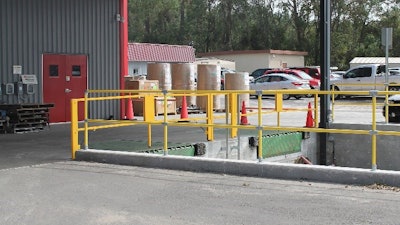 Wildeck
Since opening their doors in 1986, Vac-Con has manufactured more than 8,500 custom-built products for sewer cleaning, industrial vacuuming, hydro-excavation and water jetting.
Following the completion of their total campus renovation project, Vac-Con's 350 employee owners became interested in purchasing new access equipment that would enhance employee safety and productivity.
Through a partnership with Wildeck, Vac-Con was able to find custom access solutions that helped the company achieve their goal of a safer, more efficient manufacturing environment.
The Challenge
To keep pace with the market's growing demand for their custom-built, combination cleaning machines, Vac-Con underwent a total campus renovation that expanded their facility to 160,000 square-feet.
In contemplating ways to create a leaner, more efficient manufacturing environment, the owners knew that incorporating safe, durable equipment throughout the facility would be essential for continued success.
Quality production occurs when skilled employees are equipped with the right tools for the job. In selecting the products that would help achieve this goal, Vac-Con saw an opportunity to provide their employees with rolling ladders, mobile work platforms and shipping bay security equipment that would increase safety without sacrificing operational efficiency.
Finding a trusted company capable of providing these custom access solutions would be the next step in optimizing the manufacturing environment.
The Solution
As a subsidiary of Holden Industries, Inc., Vac-Con was well versed in the quality access products manufactured by Wildeck, their sister subsidiary.
With an industry reputation for unparalleled durability, Vac-Con's employee owners were excited to incorporate Wildeck's products into their new facility's daily operations.
Multi-tiered shelving systems provided a well-organized stocking area for additional supplies and parts at Vac-Con's renovated facility. In contemplating how to provide safe and efficient access to these elevated supplies, it quickly became evident that Wildeck's Rolastair Rolling Ladder was the ideal solution.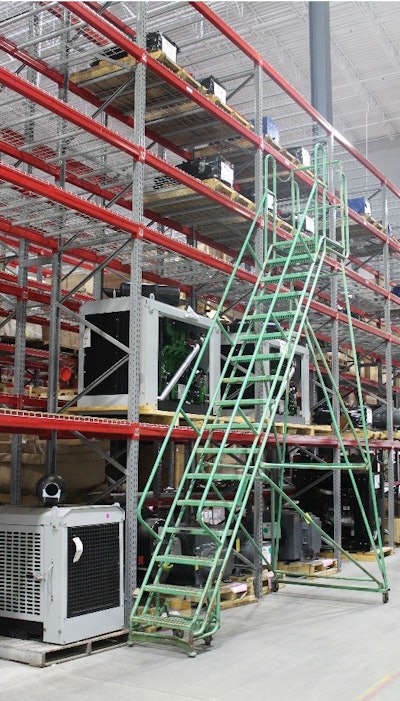 Equipped with four heavy-duty casters, the Rolastair could be easily maneuvered to any desired location. Guarded by strong steel hand rails, employees would be well protected from falls as they traveled up and down the stairwell obtaining supplies.
During the final stages of assembly, Vac-Con's employees need access to the vacuum machines that have been mounted to the back of a commercial truck chassis. Given the technical nature of the task, sturdy work stands that get technicians within arm's reach are essential for completing the final tasks safely and quickly.
Through their collaboration with Wildeck, Vac-Con was able to obtain stable, custom work stands that positioned employees on level with the deck of the truck. Designed to lock in place during use, employees working at these elevated heights would be able to avoid overreaching injuries.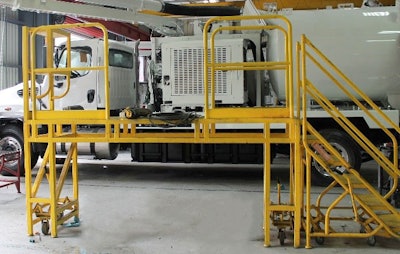 Additionally, when deciding how to best protect the facility's shipping bay area, Vac-Con selected Wildeck's JiffyRail Guard Rail. The product's modular and economic design would ensure Vac-Con's continued compliance with OSHA's regulations for guarding elevated platforms.
In reviewing his purchasing experience with Wildeck, Ian Beattie, VacCon's Inventory Control Manager, stated, "Wildeck's ease of ordering and customer service was second to none. Their range of products and ability to customize made the purchasing experience enjoyable."