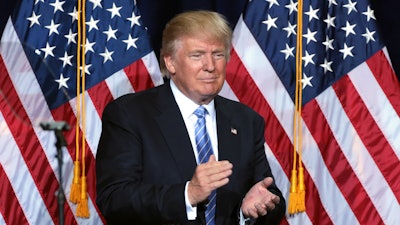 The following is an opinion piece authored by an IEN reader. The opinions reflected below are solely those of the author.
With a new President-elect taking office this January, industry experts, top executives and shareholders across the board are speculating on how President Trump will affect their business. But this is perhaps especially true for those of us involved in manufacturing, given how much the President-elect focused on our industry during his campaign.
Even knowing that campaign promises are typically outsized compared to the reality that appears once a candidate actually takes office, I do think American manufacturing will benefit from a President Trump across two main factors. Below are what they are and the reasons for my prediction.
Slowdown in Offshoring

During the campaign, lots of people doubtlessly imagined a President Trump would mean that manufacturing companies would come rushing back to the United States, dumping their offshore facilities in order to create thousands of jobs here at home.
The reality, of course, is much more nuanced than that. Instead of significant reshoring, or manufacturers setting up new facilities in the United States, I predict that we will instead see a slowdown in offshoring, with fewer companies moving jobs overseas.
In fact, we've already seen this with Carrier, the air conditioning company based in Indiana. After discussions with Trump, the company decided to keep some jobs in the U.S. Carrier is keeping around 1,000 jobs in Indianapolis thanks to incentives offered by Trump and the Vice President-elect Mike Pence. However, around 1,100 workers at that plant will still lose their jobs.
I believe that more CEOs of Fortune 500 companies will likely rethink decisions they've made to send more jobs out of the country. I don't, however, believe that it will convince many companies to bring jobs and facilities back to the U.S. that are already established and are successful as offshore operations.
The end result will be an improvement in the outlook for American manufacturing, but the real gains will not be immediate. Instead, the industry here will begin to look different in the next five years or so because jobs and facilities that might have been moved overseas were instead kept here at home.
Tax Incentives and Reforms

The other factor that will change manufacturing under President Trump has to do with taxes and regulation.
The President-elect has promised to take a more pro-business stance with these things, including taking measures to lower the corporate tax rate and lessen regulation. Our corporate tax rate - 35 percent - is by far the highest in the developed world. Cutting that from 35 percent to 15 percent will make a big difference.
When it comes to regulation, I see no negative results from potential deregulation. If you look at the 2000s, people thought we were over-regulated then - today, we're even more regulated. Cutting some of this red tape will make it much easier for companies to set up shop here in the U.S., and, when combined with a lower corporate tax rate, these changes should have a positive effect on the domestic manufacturing industry.
One thing we all have to consider, of course, is that manufacturing is undergoing plenty of changes that have little or nothing to do with who is in The White House. The industry is becoming much more automated which means that some of the manufacturing jobs that used to go to middle-class blue-collar workers are simply gone. Those aren't coming back under President Trump or anyone else.
Instead, we're going to see a continued increase in the need for highly skilled people who can operate the robots that industrial giants like GE and Ford use, as well as people who can function in these sorts of highly automated environments.
Currently, our manufacturing sector faces a major shortage of workers who are qualified to fill these positions. If we can't turn our focus on better training and education for both new and experienced manufacturing workers, it won't matter how many industry jobs are created in the U.S. We won't have the people available to fill them.
In general, I believe a Trump presidency will present a net gain for manufacturing in the U.S.
Mark Dohnalek is President & CEO of Pivot International, a leader and one-source solution for global product design and development, engineering, manufacturing, regulatory compliance and patent processing. Kansas-based, Pivot International has operations in the U.S., London, Taiwan, China and Manila. He can be reached at mdohnalek@pivotint.com and on Twitter @ @MarkDohnalek
If you are interested in expressing a counter-point to the above blog, please feel free to contact IEN's editorial staff.