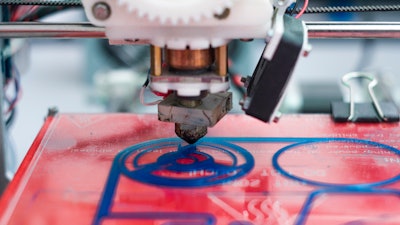 About 40 percent of respondents in an SCM World field survey of manufacturers believe that smart manufacturing is ready for use and that it's the right time to invest. Only three percent of those surveyed dismiss smart manufacturing as buzzwords.
Smart manufacturing combines technologies seen in consumer goods – such as connectivity, the cloud, 3D printing and mobile technology. These types of technologies improve operational performance by improving product quality, reducing downtime, minimizing energy costs and improving overall equipment effectiveness (OEE).
The Internet of Things (IoT) is everywhere. In fact, global manufacturers will invest $70 billion on IoT solutions in 2020, up from $29 billion in 2015, according to Business Insider UK's The IoT in Manufacturing report. The idea of a connected, IoT-based factory has evolved over the last few years. According to the SCM World survey, one in five manufacturers polled said their factories were still completely offline, but that number is expected to drop to nearly zero in the next five years.
Industrial manufacturers can use IoT technologies to connect information platforms and leverage data and analytics to deliver high-quality, reliable products. For example, Stanley Black & Decker improved productivity at its Reynosa, Mexico, plant by implementing a Cisco Wi-Fi infrastructure. As a result, equipment effectiveness on the router production line rose 24 percent, labeling defects fell by 16 percent, and throughput increased by around 10 percent.
Additive manufacturing, more commonly known as 3D printing, is changing everyday consumer products by forming solid objects from digital designs. The speed and flexibility of 3D printing can reduce time-to-market in the prototyping process. 3D printing can be used to create tools for molding and casting, and to make highly specialized, low-volume parts that are components of other products. 3D printing is changing the economics of product design and development.
For example, Belgian start-up Twikit sells 3D-printed customizable jewelry, clothing and interior design items. Shoe designer Katrien Herdewyn creates 3D printed footwear. There is even a 3D printed hotel under construction in the Philippines. As consumers adopt personalized 3D printing for clothing and household items, early adopters in industrial manufacturing are using 3D printing to reduce cycle times, and to manufacture small lots of parts for product prototypes. Recently, glass bottle supplier Orora teamed with 3D Systems Quickparts to develop a bottle design for a client faced with a costly tooling system overhaul.
Innovations in 3D printing, including new materials, cost-effective robots and 3D printers will allow small and medium-sized businesses to print a range of products in small numbers and at lower costs.
The surge of mobile device usage among consumers is penetrating the manufacturing sector as well. Connected mobile devices remove the limitations of storing information and controls in a single workstation. Integrating mobile technology can lower costs and boost productivity using existing people and resources. Most automation companies offer features and functions for product solutions, catalogs, 3D multi-media maintenance manuals and other tools that allow information to be brought directly to a workstation.
As mobile devices steadily pervade all industries, manufacturers can expect to see greater advances in apps that put critical data and analytics into the palm of the user's hand.
Sean Riley is the editorial director, marketing & communications, for PMMI, The Association for Packaging and Processing Technologies. For more information about PMMI and their upcoming Pack Expo event, click here.