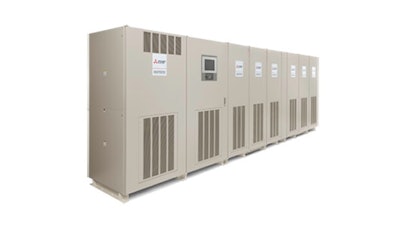 Mitsubishi Electric Power Products (Warrendale, PA) announces the release of the 9900CX, a line of uninterruptible power supplies (UPS) products designed for the relentless demand of cloud and colocation services facing today's hyper-scale data centers. According to Mitsubishi Electric, the 9900CX is the largest 480V static UPS in the industry. The 9900CX uses 350kVA power modules mated to intelligent bypass modules. The bypass modules are available in 1050kVA, 1400kVA, 1750kVA, and 2100kVA, and are paired with up to six power modules. The scalable design allows users to add supplemental modules over time to meet increasing capacity needs, making hyper-scale expansion faster, easier and more economical. Features include:
A lightweight design and small footprints, using the latest IGBT based 3-level topology.
Operation at up to 97 percent efficiency due to the intelligent controls design.
Low harmonics and rapid responses to transients, leading to lower component stress.
Internal component selection and an intelligent cooling design to increase reliability and provide a 15-year capacitor life, reducing maintenance costs and lowering the total cost of ownership.
Mitsubishi Electric UPS products deliver high reliability through robust proprietary technology designed to provide continuous power in the most demanding environments. Mitsubishi Electric's installed base of 9900 series uninterruptible power supplies have sustained load carrying capability greater than 99.9992 percent of their actual operational history.
www.meppi.com/UPS; 800-887-7830