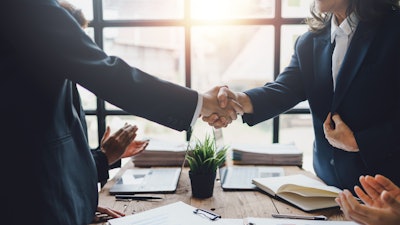 iStock
Valmet, a global developer and supplier of process technologies, automation and services for the pulp, paper, renewable energy, marine and process industries, recently completed the acquisition of the Maryland-based process solutions division of NovaTech Automation.
In doing so, Valmet has firmly established itself as a leading North American automation provider with the reach to compete with the largest providers in the world.
An engineering organization with headquarters in Espoo, Finland, Valmet has over 220 years of history in the industrial sector. The company introduced its first digital automation systems in the late 1970s, and today, the company's Distributed Control System (DCS), Valmet DNA, provides process automation across various industries, including pulp mills, paper machines, energy production, marine and process industries.
The versatile DCS can be utilized for process controls, machine controls, drive controls, quality controls and condition monitoring.
As a result of the acquisition, Valmet will continue to develop and support the NovaTech D/3 Distributed Control System (DCS), now Valmet D3 DCS, a leading-edge process control system that includes a comprehensive suite of software applications, networks and computing hardware.
Although Valmet has a strong, established global presence, the acquisition allows the company to immediately extend its geographical reach throughout North America, while leveraging NovaTech's vast expertise and resources to serve more process industries globally. With the combined strength of D3 DCS and Valmet DNA, Valmet can offer advanced process control and optimization solutions for batch, continuous and hybrid processes.
"The acquired business complements our automation offering well, bringing new synergies and opening the opportunity to serve both companies' current and future process automation customers with a wider offering," said Kari Huovila, VP, North America Automation Systems at Valmet.
Huovila quickly notes that all NovaTech D/3 customers continue to have full support for their currently installed systems and can expect to see the benefits of Valmet's larger product development organization and global support network.
Among the strengths of the D3 DCS Valmet was most attracted to, Huovila said, was the company's S88 batch control offerings, including its FlexBatch® software.
The FlexBatch software integrates recipe management and the manufacturing process so that product developers, engineers and production staff can quickly develop, produce, schedule and manage documented, executable recipes using intuitive graphical tools. The software is designed in accordance with the ISA-88 standard for batch control and reduces the dependence on control engineers.
"What we were looking for was NovaTech's batch control capabilities and the FlexBatch software is an essential part of that," explained Huovila, adding that these batch control capabilities will only strengthen their existing Valmet DNA system and help the company to enter new industries with a highly competitive solution.
"From a strategic point of view, the acquisition is an opportunity to support the batch control process needs of more industries," added Huovila.
Focusing on the Customer
A key focus for Valmet as the company brings advanced process solutions to more industries across North America will be to ensure the satisfaction of its expanded customer base.
Huovila admits there is "… still work to be done to show NovaTech customers the benefits that this acquisition will bring. This is part of our overall goal as we increase awareness for Valmet in the U.S. market since the company merged, then later separated from the Metso Corporation in 2013."
Before the initial merger with Metso, Valmet was well-known throughout the pulp and paper industry. Today, the company also counts renewable power, power generation, biomass and cruise line marine automation among its key sectors. As a result, the company has developed sector-specific solutions for condition monitoring and optimizing automation and control performance, such as specialty analyzers and quality control systems for the pulp and paper sector.
Valmet's offerings focus on sector-specific technologies and services, automation solutions and flow control. Automation technologies span DCS, control & optimization solutions, analyzers and measurements, quality control systems and asset performance management systems, including process equipment and field device monitoring and management.
Today, Valmet can provide almost all components of an automation system except for general instruments like pressure or temperature sensors.
"While the Valmet name itself may be new to some people, companies across process industries may actually be already familiar with many of our products," said Huovila.
In addition to the integrated hardware and software components of Valmet's DCS platform, the company also provides many services through its service network and service specialists. One example is the ability to help customers optimize advanced process control, which requires in-depth process knowledge along with the latest kind of optimization and technology knowledge.
"We recognize that nowadays it's even more important to have a short payback for all those investments," said Huovila. "Through these performance improvements and clear optimized controls and optimized processes, we have been able to really make significant improvement in our customers' performance."
Moving forward
Since the January 2023 acquisition, Valmet has continued integrating the NovaTech process solutions into its product suite according to the company's plan.
"It's progressing well," said Huovila. "The teams are engaged together and they are excited to be part of this new journey with Valmet. The first step was addressing the general and basic integration needs. Now we are working together towards our common future."
"We've been very open with our customers to explain why we acquired NovaTech Process Solutions," said Huovila. "Why it made sense to Valmet and NovaTech, but most importantly, why it benefits our customers. The response has been great and customer confidence has actually increased."
Huovila added, "Because customer relationships [with a DCS system] are very long in terms of years, we have to be able and moreover we are willing, to provide the life cycle of continued product development, support and maintenance of process automation systems whether they are Valmet DNA or D3. We will also continue to dedicate R&D efforts to move both products forward and given the combined resources, at an accelerated rate."