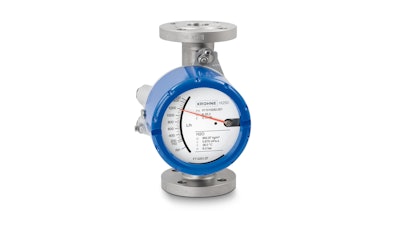 KROHNE
Reliable and safe measurements are crucial for the success of any industrial organization's mechanical processes. In order to ensure the reliability and safety of measurements in critical applications, it is important to detect any deficiencies in the measuring equipment itself as early as possible.
Variable area flowmeters are a ubiquitous and time-tested measurement technology since their introduction over a century ago. The technology's longevity and popularity are rooted in its reliability and broad applicability: its varied applications include chemical and process industries, oil and gas, machinery and apparatus, food and beverage, water and wastewater and both conventional and nuclear power.
KROHNE has modernized this tried-and-true mechanical technology by adding new on-board electronics with diagnostics and continuous float monitoring (CFM) thereby enhancing the performance, reliability and safety of its H250 variable area flowmeter. This allows the H250 to detect concerns such as possible installation issues, faults in the flowmeter or the changes in the process itself.
Enhancing Reliability and Safety in Measurements
The new CFM diagnostic package further enhances reliability and safety in measurements by enabling the meter to identify common faults that a customer might find in variable flow meters.
Its intelligent algorithms perform trend analysis that can quickly detect float blockages that prevent measurements, as well as pulsating floats that continually oscillate.
When the flowmeters are disassembled and cleaned, the CFM diagnostic package can detect whether it has been reassembled incorrectly. It also detects interference from external magnetic fields, which disrupt the meter's magnetic coupling between the float and the sensor which is crucial for accurate measurement.
With many industries, especially the chemical industry, placing increased emphasis on safety, the CFM diagnostic package increases the overall benefit of the H250 in rated applications and for customers across the board.
Rapid Retrofitting of Existing Flowmeters
Though some customers prefer to use the H250 as a flow indicator in a purely mechanical configuration, adding modular electronics allows for remote reading of the flowmeter, totalizing and other features such as switch or analog outputs. Any H250 flow meters purchased before the introduction of CFM capabilities can be rapidly and easily retrofitted.
Whether on new or existing retrofitted devices, customers will benefit from this CFM feature which also makes various report application diagnostics available via either HART 7 or the IO module.
Building Trust by Increasing Available Information
Now, every KROHNE H250 configured with a HART enabled output module includes the CFM as a standard added feature. Customers who are not aware of this capability can leverage it to get even more value out of their flowmeters. Even in non-safety critical applications the additional information alerts users when maintenance is required so they can react in a timely and effective way, allowing them to manage their operations with greater clarity and confidence.