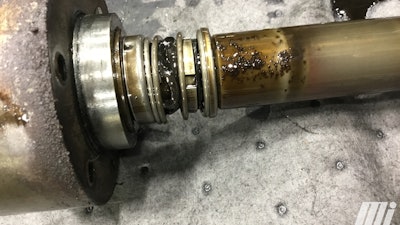 Motion
Premature pump failure: Why does it happen? How does it happen? These questions can plague us all from time to time. Have you ever been frustrated that you can't figure out why your pump is leaking? You just bought it—it's never been used—and now it is leaking and/or failing to move product. This question has plagued me from time to time. However, pump failures are often not as complicated as they seem, and understanding them can give insight.
1.
Leaking mechanical seal
This is one of the most common early pump failures, and it can happen upon installation or startup or shortly after the pump runs for a few hours. Here are some ways to better understand why and how this happens:
The seal was run dry

. This common occurrence on almost any pump upon startup is because it is not primed with the fluid it is pumping. Priming a pump during installation and before startup creates a barrier fluid around the mechanical seal. This barrier cools and protects the seal. If the pump starts without that barrier, it creates friction, generating heat and burning up the seal faces—losing their sealing capability.

A cracked seal face

. Cracking can happen on a new pump in transit to the end-user or from installing the seal incorrectly. Most but not all seal faces are made of carbon or ceramic materials. The cracks on carbon faces are often hairline cracks invisible without the correct lighting or a magnifying glass.

Incorrect seal for the process

. The seal chosen should be compatible with what is being run through the pump, such as oils, wastewater and acids. Most oils are petroleum-based, and a mechanical seal with Buna-N elastomers is incompatible. The petroleum will swell the Buna-N elastomers to almost triple size. When this happens, the seal's rubber portion that slides on the pump's shaft loses its sealing capabilities by allowing fluid to pass through the bellows/elastomers.



2.
Process issues
While process issues can stem from various reasons, these are the main ones:
Application error.

The pump selected should be designed to pump the product—e.g., you normally wouldn't select a geared pump to move water. Although it could be done, it wouldn't be efficient. Gear pumps are better for pushing oils and other thick viscous materials.

Operator error.

Occasionally a non-self-primed pump runs dry, or startup directions aren't properly followed. Most operators are savvy and prevent this from happening, but it is still good to be aware.

Operating conditions.

Pumps exposed to outdoor elements, for example, will need proper insulation for colder temperatures—or the pump has a greater chance of failing prematurely.
3.
Bearing issues
Bearings can fail for various reasons. The most common is improper lubrication when the incorrect lubricant is used or not enough is applied. Bearings also fail in extreme temperatures. Another cause of failure is bearing overload, e.g., a pump cavitating from lacking the proper flow will increase pressure on the impeller's front. This pressure will push the impeller backward, causing strain on the rear bearing and subsequent bearing failure from the excess load.
4.
Impeller failure
Impellers can also fail for multiple reasons, erosion being one of the most common. Erosion is caused by the suspended particles in the fluid being pumped. Impeller failure can also result from corrosion or cavitation. Corrosion is caused by chemical reactions between the pumped fluid and the metals used in pump manufacture. Cavitation is caused by vapor bubbles formed if the pump's pressure drops below a certain point.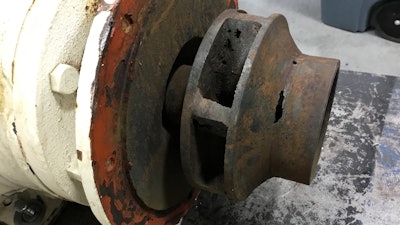 5.
Fouling
Fouling occurs when particle matter sticks to the pump's internal surfaces, most frequently in the distribution lines connected to the inlet or outlet. When this happens, the pump's efficiency and flow rate drop dramatically, leading to pump failure. Unfortunately, this problem is unavoidable, but various cleaning methods such as backward flush, filtration system, and others can help prevent it.
Pumps can fail in various ways. The earlier the problem can be detected, the better your pump's survival chances. Most are everyday mistakes that one rarely stops to think about. The next time your pump fails, stop, take a step back and look at the bigger picture. The reason it failed may not be as complicated as you may think.
About the Author

Nathan Maxwell is a shop technician at Motion's Process Pumps & Equipment location in Omaha, Nebraska. A certified welder, Maxwell has 17 years of experience in welding, fabrication, machining, CNC and lathe operation, drilling, and plasma cutting, as well as six years in robotic welding and programming, and six years in process pumps. For more information, visit Motion.com/ien or Motion's Knowledge Hub (motionind.biz/KH22) for additional industrial solutions.