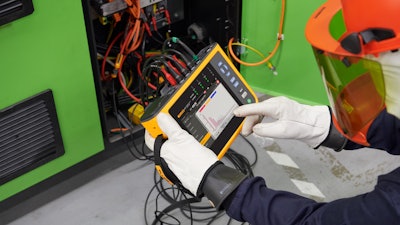 Fluke
Working toward a more energy efficient plant is at the top of many to do lists given current inflation rates, but it does not have an out-of-the-box solution. However, there are a handful of areas that make sense to focus on monitoring when investigating energy efficiency in your facility. Machinery becomes less efficient over time. It is also important to identify motor loads that might be oversized for the application. Underloaded motors can lead to increased penalties in energy cost due to poor power factor, so it's important to keep an eye on your motors and drives, air compressors, HVAC systems, process equipment, and power quality.
In HVAC systems where leaks, damage, and corrosion reduce efficiency and where distributed power from your local utilities can cause power quality issues, these things can impact the overall energy efficiency of a plant, not to mention its bottom-line. Energy efficiency in these areas can equal a reduction in energy consumption, improved performance, and/or extended equipment life.
Balancing Manufacturing with Energy Efficiency
In food and beverage manufacturing, the big three utilities reign supreme. Monitoring electricity, water, and natural gas can keep your production line running smoothly. Catching issues with the big three before they get too big, or cause damage and downtime can save your plant time and money. Monitoring and making adjustments with these three utilities can help keep your expenses lower since the cost of these utilities fluctuate.
Food and beverage manufacturers have unique considerations when it comes to power monitoring, compressed air leaks, and equipment since product consistency is critical to brand reputation and compliance standards. Plus, the level of controls and regulations placed on these kinds of plants to avoid contamination can mean extra steps on the monitoring end. Include these seven tools in your toolkit to help get your food and beverage plant to be more energy efficient.
Energy Logger
Having an energy logger around for your system maintenance can give you a way to collect data, which in turn you can make critical energy decisions based on. A power logger can perform energy, load, and power quality studies over a set amount of time. Once that information has been captured by the logger, it can offer insights into your overall electrical system health. This data then aids in the next course of action, whether that be system improvements or installing mitigation, to prevent costly equipment damage.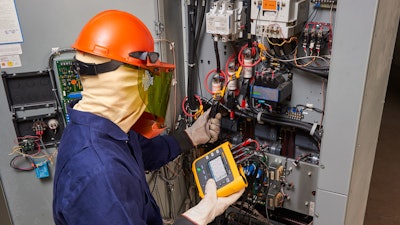 Power Quality Analyzer
A power quality analyzer can take your logger information and go one step further. Not only can this tool handle the complexities of logging, and it can also help with troubleshooting and analysis of the study conducted.
Selecting the right kind of analyzer for your plants' needs depends on the kind of assets you will monitor and troubleshoot. Analyzers differ on the speed of sampling and some lack the ability to capture event data that might be critical in identifying electrical problems at the plant. Depending on your assets or problems you're experiencing, you may need an analyzer that has a 1MHz sampling rate to capture fast transients, or you may need a speedier 20MHz sampling rate to capture the fastest transients in high detail.
Battery Analyzer
Having a battery analyzer in your pocket is always handy when conducting preventive maintenance or fixing an issue with an asset. This tool can typically measure the quality of the charging system as well as test individual, stationary batteries and battery banks your facility uses for critical battery back-up application. Battery analyzers can run maintenance, troubleshooting, and performance tests in order to raise a red flag if there are any issues with your battery. Look for a battery analyzer that can monitor for internal battery resistance, AC (Alternating Current) and DC (Direct Current) voltage, AC and DC current, ripple voltage, frequency, and temperature.
Thermal Imager
Keeping a thermal imager on-hand during inspections can help you keep track of all three big utilities. These tools can detect and diagnose issues with motors, transformers and drives, electrical panels, HVAC ductwork, or issues with water lines, even detecting those issues in walls, ceilings, or roofs. A thermal imager provides a visual guide to temperature change and is a useful tool for predictive maintenance.
Air Quality Tools

In a food and beverage manufacturing environment, air quality is important to ensure safe food. Temperature and humidity are the foundation of indoor air quality. Add two tools to your preventive maintenance kit:
Particle counter

Humidity meter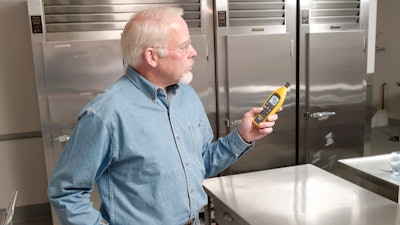 While we rely on HVAC equipment to maintain temperature, humidity, ventilation levels, and building health for the plant, having a particle counter and a temperature humidity meter while on your preventive maintenance rounds can show early signs of issues with your HVAC system.
Acoustic Imager
Compressed air is the food and beverage industry's fourth utility. After the big three previously mentioned, the reliability of predictable air pressure is paramount to keeping a plant up and running. This means even small leaks can cause large issues as well as a source of energy loss. But finding them is half the battle.
Instead of having to check every pipe manually, shut down operations to listen for leaks or use the water and soap method in order to run checks throughout the building, these tools allow you to quickly find air, gas, and vacuum leaks in your compressed air systems. An acoustic imager uses an array of ultra-sensitive microphones to detect sound in the form of small leaks around your plant. Most of these tools present the sound visually, so the point-and-shoot process doesn't even require a specialized technician.
Rather than climbing ladders, many leaks can be found while the facility is up and running. This means you can gather a list of leaks, rank them by most important or most expensive, and create a strategy to tackle them. Acoustic imagers can even be used to verify those repairs after.
Multifunction Calibrator
The final tool on the list is one that can ensure measurements taken during a preventive maintenance walkthrough, or while monitoring assets and equipment are accurate. All tools need to be calibrated to be certain they're accurate and measuring within specifications. Some tools may need to be sent to a calibration lab, or a calibration technician needs to be on-site to conduct the calibration work. But for other tools, a multifunction calibrator can calibrate in the field. Calibrating sensors, valves, and transmitters around the plant can also add confidence to your measurements and the data you collect over time.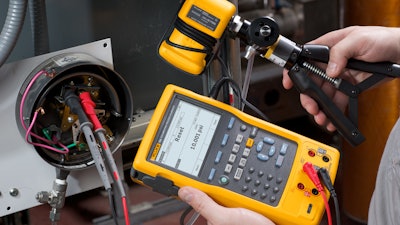 Jason Axelson is a sales support engineer for Fluke Corporation. For more information, visit www.fluke.com.