NIB
President Franklin D. Roosevelt signed the Wagner-O'Day Act on June 25, 1938. That Act, 83 years ago, opened the door for an organization that has proven to be a backbone of the United States military.
The Wagner-O'Day Act required government agencies to purchase certain products manufactured by people who are blind. Forty-six days after President Roosevelt made the Act official, the National Industries for the Blind (NIB) was incorporated in the state of New York to serve as the central nonprofit agency responsible for allocating government orders.
Shortly after NIB's birth, World War II commenced and the United States entered three months later. In its early years, NIB became a pivotal provider for the U.S. government and military throughout the war and its necessity persists today.
"We started out doing a lot of the traditional manufacturing," NIB CEO and president Kevin Lynch said. "That has significantly changed particularly over the last 10 or 12 years. One of the real game-changers for us has been the boost in accessible technology that has allowed us to take on much more complex opportunities."
A noteworthy development in the last 80-plus years was the introduction of SKILCRAFT, the brand name for products manufactured by people who are blind.
SKILCRAFT was created in 1952 out of a desire to maintain demand after the conclusion of World War II. In 1955, the products began appearing on shelves in military commissaries and exchanges in the form of wax applicators, dish and polishing cloths, door mats and clothespin bags.
NIB began with about 150 employees who possessed little to no sight and manufactured products. In the present, NIB and its U.S.-based nonprofit organizations provide 3,481 manufacturing jobs for Americans who are blind and produce 4,141 different products.
Some of NIB's first manufactured items were mops and brooms. Now, examples of its advanced manufacturing prowess include infrared coding and fire-retardant military uniforms.
SKILCRAFT products exist for industrial settings such as janitorial supplies, food service and operating supplies, paint, hardware, tools and safety supplies. NIB also employs 150 individuals who are blind across the country doing contract closing for the United States Department of Defense.
"While our program has mainly been focused on the government and Department of Defense, we are also available for commercial marketplace," Lynch said. "If companies or individuals are interested, they can get in touch with us and we will gladly welcome any kind of support they have in terms of purchasing any of our products or services."
In terms of maintaining a safe environment, Lynch explained NIB's policies do not differ much from a company with a non-disabled workforce.
Lynch stressed the process of adapting the person to the job rather than adapting the job to the person. Lynch emphasized a style of training that allows individuals to get in a repetitive mode.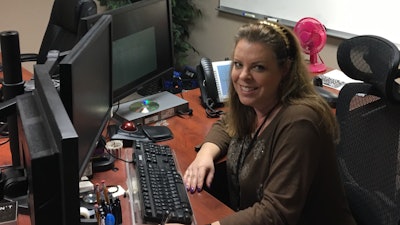 "You figure that somewhere around 70% of the information you take in being non-disabled comes from visual cues," Lynch said. "You now have to figure out how [you are] going to have a person go through and they're maybe going to be assembling medical kits for the military. What we will end up doing is we will provide mobility training which helps them identify and be able to get to and from the locations they need to be able to go to.
"You also have to go through and do the layout and make sure that an individual is working through picking things in the proper order. You also want to make sure they know cycles of a machine."
NIB's and SKILCRAFT's most recent contribution to the country came during the ongoing coronavirus pandemic with 40 associated nonprofit agencies and 3,780 people who are blind manufacturing COVID-19-related products.
The number of COVID-19-related products made available totaled 1,580.
"The military was called in to help in terms of getting supplies and we were right there in the forefront," Lynch said. "When businesses were [closing], our agencies were actually open. We were producing facemasks, we were providing nitrile gloves, we produced hand sanitizer.
"Then we started getting into items that we weren't producing but were needed such as protective face shields. We were also providing for the special military medical kits. We actually produced a couple hundred field hospital units that we'd put together with individuals who are blind."
Jobs, associated nonprofit agencies and production have all increased, but one of Lynch's most sought-after goals is decreasing one statistic: the number of unemployed individuals who are blind.
According to the Bureau of Labor Statistics' Current Population Survey, nearly 70% of working-age Americans who are blind are not employed. Working age is defined as 16 to 64 years old.
One way to lower this statistic is to change the public's perception of people who are blind.
"Most people are amazed that a person who is blind is capable of doing much of anything, to be honest," Lynch said. "It's not that people are negative, they just don't know. I believe that, in my experience, there are individuals out there who have little to no sight who can do anything. Right now, we're limited to the fact that we probably don't want them flying airplanes or driving tractor trailers yet. But the reality is, in the future, that will probably be able to be done."