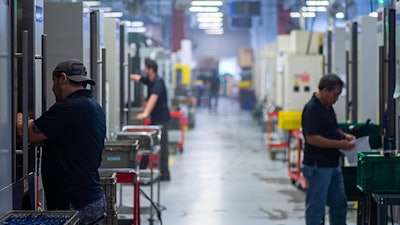 Azimuth Technology
Most CNC job shops and manufacturing contractors secure work before purchasing new machines. Typically, this method makes it easier for management to schedule jobs on specific machines and allows for more flexibility.
LeNoir "Len" E. Zaiser III and his son, Len E. Zaiser IV, are not most people and their businesses are far from typical.
The father and son entrepreneur team puts their production process first. Len Zaiser IV said building skilled CNC machinists and programmers, investing in world-class technology and refining manufacturing procedures creates the best product.
"We have what we call the 'Field of Dreams' philosophy," Len Zaiser IV said. "If you build it, they will come."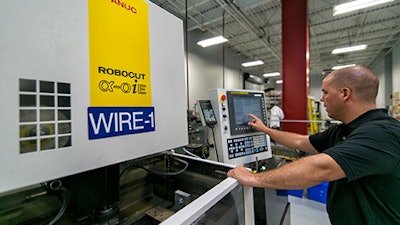 RoboDrill Becomes Backbone of Medical Manufacturer
One such industrial powerhouse is the RoboDrill. When Len Zaiser III founded Structure Medical in 2005, the RoboDrill quickly set itself apart from other machines. The Zaisers used the machine to manufacture a titanium pedicle screw assembly, a mechanically complex orthopedic screw inserted after spinal surgeries.
"It was about a year later we determined it was our most profitable job in the whole factory," Len Zaiser IV said. "That was really an epiphany for us."
Structure Medical continued to grow, as did the number of RoboDrills in the shop. Operators became accustomed to the usability of FANUC controls and the machines themselves produced precise, accurate and reliable components.
"We became the go-to company in the world for titanium and polyetheretherketone (PEEK) implants," he added. "We were basically making the most complex components out there, things that other people couldn't make."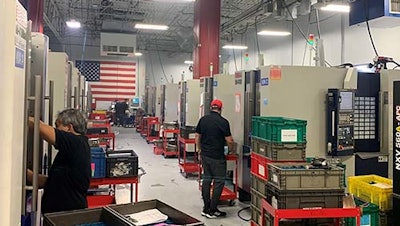 Firing on All Cylinders with KIWA and Horizontal Machining
Len Zaiser III sold Structure Medical in 2010, and the duo co-founded Azimuth Technology in 2012, with Len Zaiser IV as the Chief Executive Officer. Headquartered in Naples, Fla., Azimuth Technology has become one of the leading firearm component manufacturers in the country. Every month, Azimuth Technology produces tens of thousands of bolt carrier groups, pistol barrels and pistol slides for hundreds of companies.
Azimuth Technology was a new venture, but the Zaisers maintained their commitment to manufacturing high-quality products.
"What we're passionate about is making quality products on time and efficiently in industries that have not caught up with the current technology," Len Zaiser IV said.
With that mindset, Len Zaiser IV and Azimuth's Milling Manager, Nick Chylinski, began the search to make firearm production more efficient using modern manufacturing practices and leading machine tools.
For a while, the company was content with using vertical mills as horizontal CNC machines. That meant inefficiencies in the form of numerous changeovers and part swapping every time a component entered and exited a machine.
Azimuth Technology developed some of the best firearm components on the market, but they needed to make them faster.
"Once we had enough quantity to make the same part, it only made sense to invest in continuous machining," Chylinski added.
The company needed to strike a balance of unmanned machining, which is typically easier to implement on horizontal machines since those machines come with automatic pallet changers, and floor space, commonly associated with vertical machines.
Len Zaiser IV and Chylinski found their silver bullet, the KIWA KH-4100. The unique combination of a two-pallet pallet changer (PC2) and compact design made the machine tool a perfect fit for Azimuth.
"The KIWAS are 60 inches wide, there is no other comparable horizontal machining center in the world that has the footprint with the working envelope that KIWA has," Zaiser said.
The benefits of horizontal machining were immediate. The company's vertical machining process was time-consuming. It involved stopping vertical machines, removing the workpiece, flipping it, putting it back into the machine, changing tools, starting the machining and repeating the process ad nauseam.
The KH-4100's 15,000 rotations per minute (RPM) spindle and 60-tool automatic tool changer (ATC) helped make the process remarkably simple.
"With a horizontal machine, you have your fixture loaded and running while the operator is unloading and reloading the next fixture, so the machine is continuously running." Chylinski said.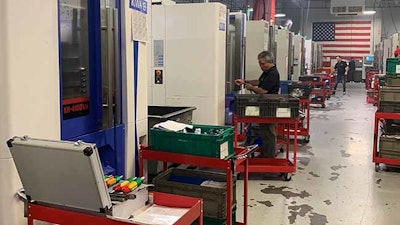 Loading up on KIWA KH-4100s
KIWA's slim design allowed Azimuth to pack in more machines as some of them have spindles running for 40 hours without stopping. The switch from vertical to horizontal machining alone increased throughput by 50%, Chylinski estimated.
"That's a lot of throughput, considering they run lights out," Zaiser added. "Anytime a machine runs with no one around goes straight to the bottom line."
Methods contributes to Azimuth's bottom line beyond supplying machine tools, Zaiser said. Methods installs all machine tool options and necessary components at its Charlotte Technical Center in North Carolina. When the CNC machine arrives at Azimuth Technology, it's ready to work.
Methods' field service team and product managers are ready, too. When the company had the first KH-4100 up and running, Bernie Otto, Methods' Director of Technical Support and product manager for KIWA and OKK, was on-site to smooth out any wrinkles operators had using horizontal machines.
Other Methods team members, such as Terry Thomas, Service Manager at the Charlotte Technical Center, are only a phone call away.
Heavy-Hitting OKK Delivers Fast Rapids
Seeing the success of horizontal machining, Azimuth continued to expand its capacity in Q1 2021, this time with OKK's VP500.
The heaviest machine at Azimuth, the VP500 delivers fast rapids, ease of use with a familiar FANUC control and superior rigidity.
"They're definitely an upgrade to the off-brand 40-taper verticals we were using for that operation," Chylinski said. "We literally doubled our machining capacity by installing those machines."
Continued Growth
Azimuth Technology has proliferated since its inception. The company has about 130 customers throughout the United States and has become one of the largest contract firearm manufacturers in the country. Azimuth continues to invest in its people, technology and processes, with a 125,000 square-foot expansion in the works.
"We could not do what we do today without implementing the KIWAs," Zaiser said. "The compact KIWAs and knowledgeable staff at Methods are the perfect fit for our shop and our culture."