iStock
Associations typically excel at the big picture. They're great at keeping their memberships informed on industry trends and ensuring their collective voices are heard in Washington DC. But sometimes, helping to solve an industry problem requires more than building awareness.
"Lots of associations are having big broad conversations about employee recruiting and retaining," said Julie Davis of the Association of Equipment Manufacturers (AEM). "But not a lot are saying we are going to help you on a grassroots level and give you a competitive advantage."
AEM has rolled up its sleeves to create a toolkit that is as pragmatic as it is prolific. While it combines 60 industry reports, and 200 industry articles, this resource-rich backdrop is more than a collection of top content.
It's a tool to level the playing field for small and medium-sized equipment manufacturers in the battle for quality talent, and it's coming not a moment too late.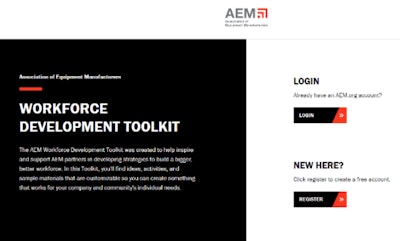 HR best practices you can follow, step by step
Any small to medium-sized manufacturer is well aware of the need for better talent. What they don't have is a good solution.
Davis explains this became readily apparent when AEM spent a year talking and listening with its membership about the recruiting and retaining issue. It quickly became apparent that time and a lack of resources was the biggest problem.
"In these companies, you might have somebody doing HR part-time," Davis said. "They might also be in operations or some other job in the company."
AEM's mission became clear: Provide someone who doesn't have a background in HR with an easy connection to research-based best practices, and action plans designed for a time-strapped organization.
"We wanted to say, 'If you follow these step-by-step instructions, you can be confident you'll be doing the right thing,' " Davis said.
Leveraging her own workforce development background
Julie Davis is no stranger to working with manufacturers to help build a workforce. Living in Sturgeon Bay, Wisconsin, she started her career in training and corporate development in Northeast Wisconsin.
After the hours on the road started to make it difficult to keep up with her children's activities, Davis switched gears and began working at the local Boys and Girls Club. Within two years, she took over as the Executive Director and brought her knowledge of the manufacturing skills gap with her.
"I understood the concept of Rural Brain Drain because I saw the reality playing out in my community." Davis saw that the Club had the opportunity to invest heavily in youth most likely to remain in the community. "I thought, what if we could prepare and connect the youth who are likely to stay with great manufacturing jobs that were available locally. It would be a win for the youth and a win for our manufacturers."
Over the next six years, Davis actively developed partnerships with the local manufacturers that introduced youth to the jobs in the community through hands-on engagement.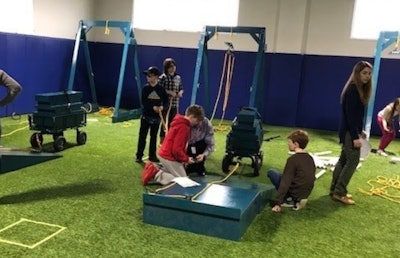 When the opportunity to work with AEM on this project materialized, Julie realized bringing a grassroots perspective to a personal toolkit would be perfect for the job. Having run an organization herself, she knew the time constraints affecting many businesses, which is why whatever action plan was proposed, it had to work.
Hand-holding your way to success
The 15 different action plans are the critical drivers for the toolkit, and they're based on a "hand-holding approach," the equivalent of watching a YouTube video on how to fix a leaky sink.
The content includes concise actionable introductory sections. If you want to drill deeper, you can find a backdrop of timely articles and research reports compiled from strategic leaders such as McKinsey & Company, Deloitte and The Manufacturing Institute.
In each case, Davis and her team assembled the best practices based on multi-point verification, then took the best of the best to build the concise action plans. Additional resources include:
Case studies from industry demonstrating best practices in action
Workforce Development Organizational Assessment to determine current strengths and opportunities
Community Asset Mapping Tool that helps you understand why, who, and how to partner locally to support your workforce development goals
Vetted sources or partners who can support workforce goals such as veteran connections or educational partnership facilitators
Checklists
Templates for flyers
The toolkit action plans extend far beyond just the traditional mechanics of recruiting and retention. They also address the number one issue for manufacturers today: Perception.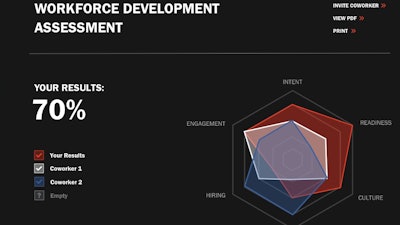 Influencing your community a key component
Davis believes that industry perception is absolutely critical. "If I surveyed manufacturers about their #1 challenge when it comes to recruiting, 7 out of 10 times they would say it's industry perception," she said.
The toolkits action plans also include methods for influencing the community and creating awareness about the opportunities available at your manufacturing facility.
"It starts with doable things," Davis said, such as sending employees out into the community and engaging with people. Sharing your company's story in the community, and explaining the opportunities available to today's workforce is critical. And it can't be a half-hearted attempt.
"Allowing one eighth-grade field trip a year to your facility just won't cut it," she said.
Toolkit rollout is just the beginning
AEM rolled out the toolkit at the end of January 2021. As of March, over 90 users had signed up to use it. "Our next step is to engage with the people using the kit; find out who they are and how we can help them."
Publishing the kit isn't the end of the road, she explains. It's just the beginning. The kit will be constantly updated, and member feedback will help the tool evolve. Continuous improvement doesn't just occur on the factory floor, after all.
AEM has taken the grassroots framework for this initiative, but now Davis believes the ball is in the manufacturer's court.
"Companies need to realize that if they're not engaging in the foundational best practices, you are going to lose the competitive advantage to the company down the street," she said. "If you want to win the war for talent, this is what you need to do."
To learn more about AEM, visit https://www.aem.org.
This profile is a part of an ongoing series to expand awareness of the manufacturing industry from Winbound, a manufacturing marketing agency.