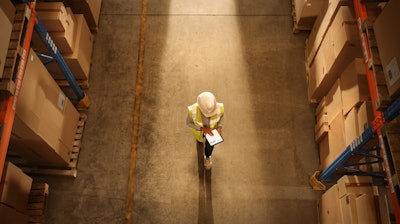 The digital transformation of supply chains has created a new methodology for warehouse operators to enhance operational efficiency, streamline workflows and boost profit margins. It's no secret that warehouses have become increasingly automated and data-driven over the last decade through the use of various advanced technologies. Radio-frequency identification (RFID) tracking and tracing, cloud computing and storage, collaborative robotics (Cobots) and machine learning are all pieces of a larger data maturity puzzle. Each technology generates its own unique sets of advanced data that are elevating warehouses into innovative industry leaders, pushing the envelope on efficiency and effectiveness.
However, warehouse data that isn't reported or leveraged correctly is just a set of numbers, and the warehouses that fail to act on their data are wasting invaluable opportunities to foster growth. From real-time interoperability between multiple warehouse systems to actionable supply chain insights based on advanced automated forecasting, predictive and prescriptive analytics (PA) serves as the glue that holds warehouse data, robots and humans together.
The Roles of PA in a Warehouse
Predictive analytics leverages advanced forecasts and statistical models to identify trends that could happen in the future relating to:
Demand Sensing:

Predicting demand across multiple channels based on consumer behavior and purchasing habits correlated to seasonality, external circumstances (such as the COVID-19 pandemic, price changes, etc.) and detailed industry trends over daily time buckets.

Inventory Optimization:

Advanced forecasting, model stock and risk mitigation technology to estimate the probability of future supply chain bottlenecks, unexpected disruptions and out-of-stock disruptions. Inventory optimization solutions are often found combined with detailed demand planning to properly align execution and maximize customer satisfaction.

Costs and Profits:

Financial data mining assessing how future labor and operational costs will affect profit margins and inventory turns.
While a predictive analytics solution provides the probability of an event happening, prescriptive analytics takes it a step further by going beyond basic reporting and analysis to generate descriptive insights combined with a prescriptive action and next steps to optimize the event's outcome. It transforms data revealing what will happen into data dictating what needs to happen. Through machine learning, artificial intelligence and pattern detection algorithms, it identifies anomalies in a warehouse's operations and prescribes corrective actions employees (or robots) can follow to foster positive results and prevent negative outcomes.
Connecting the Data Dots
Both predictive and prescriptive analytics solutions perform key functions in a warehouse setting, where data is collected on daily tasks such as:
Goods received from suppliers, importers and manufacturers

Goods transferred onto pallets for short-term and long-term storage

Goods transferred from warehouse shelves to be transported

Goods loaded on to vehicles for transport based on "bill of labor" and invoices

Goods to be "cross-docked," rerouted, reassembled and shipped, all on the same day
With the combined use of predictive and prescriptive analytics, warehouses can bridge data gaps to improve operational efficiency within their facilities and successfully navigate extreme market volatility to prevent any "bullwhip effect." The solutions help increase efficiency through automated data analysis of product tracking and tracing inside the warehouse to reveal the fastest and most productive workflows.
Amid demand swings, employees analyze less and do more with simplified instructions and directives that enable them to focus on adjusting physical tasks and responsibilities -- thus reducing the risk and rate of human error. And from a workplace safety standpoint, these solutions can provide extensive data on warehouse accidents, flagging safety risks along assembly lines and during manual/automated machinery operation. As an actionable next step, prescriptive analytics then offers suggestions on how to alleviate them.
A Look into the Future
The future of warehousing will be contingent upon the evolved use of predictive and prescriptive analytics combined with humans and robots. The 2020 MIH Annual Industry Report predicted that over the next 10 years, a rapid surge in digital transformation initiatives will fundamentally change the way warehouses operate. In turn, warehouse digitalization will reach its apex as digital supply chains become the industry's dominant model.
As technology, human/robotic cross-collaboration and advanced data generation continue to develop, warehouse operators will need systems in place that empower them to collect, analyze and act on their data in real time without reporting gaps and delays. With smarter, data-driven analysis from predictive and prescriptive analytics, they can optimize all aspects of their operations for sustained success in a new era of innovation.
As General Manager of Zebra Analytics, Guy is responsible for setting the organic and non-organic growth, leadership strategy, and customer success for the Zebra Analytics business unit. Formerly CEO of Profitect, recently acquired by Zebra Technologies, and a 25-year veteran of the supply chain industry, Guy has held senior leadership positions at Oracle and was previously founder of Demantra US (acquired by Oracle in 2006).