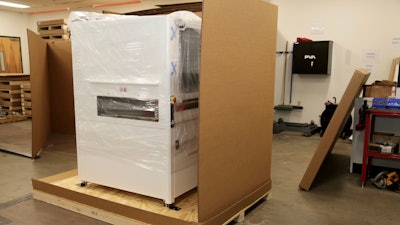 PVA manufactures robotic dispensing and spray coating systems for companies servicing the automotive, aerospace, defense, medical, and circuit board assembly markets. Its sophisticated equipment solutions are shipped and installed around the world, serviced from offices in Albany, NY, The Netherlands and Suzhou, China.
PVA manufactures automated equipment that selectively applies protective coatings to circuit boards, insulating them from ambient temperature swings, humidity, vibration and dust. Its robots also can apply paste to adhere components to circuit boards, and glue plastic parts together. For a high-tech company PVA had a decidedly low-tech problem.
"We were spending about $10,000 per month building and storing freights in an off-site warehouse," explains Frank Hart, PVA's Managing Director, Sales & Marketing. This is not uncommon; mission-critical machinery such as those produced by PVA require large, sturdy shipping containers. Historically, such customized crates have been constructed out of wooden materials.
PVA's executive team realized there were notable drawbacks to wooden crates. For starters, creating shipping solutions for the sort of tailored machinery the company supplies is a practice in customization. This level of per-product precision only added to the already sizable labor investment that constructing wooden crates typically involves. The process also mandated significant storage space, adding additional overhead in the form of warehousing costs.
Heft was another pain point. In shipping, though size certainly does matter, weight matters more. Wooden crates designed to transport large equipment tends to get heavy itself, adding significant cost to shipping fees. And once the product was delivered, PVA was finding that its customers were often stuck with an "end of life" surcharge for proper disposable or recycling of the wood crates – a less-than-ideal situation that, as a double whammy, often runs counter to PVA's commitment to finding sustainable solutions wherever possible.
Five years ago, PVA had had enough. A company that builds smart solutions needed a smarter way to ship them.
Less is More
PVA put together a dedicated team responsible for exploring alternative crating and shipping options. What the team ultimately recommended was about as alternative as alternative gets: shipping PVA's heavy high-value equipment in … corrugated shipping containers?
PVA's packaging team pointed to crating technologies specialist PACT. Among other innovative products, the company had devised a corrugated crate specifically designed to ship large, often fragile items. Known as J-Crates, the patented, customized corrugated crating solutions offer a bevy of benefits including reduced shipping costs, maximization of warehousing space, and increased sustainability.
"We were called by PVA to look at some of their crating," said Rodger Mort, General Manager for PACT LLC. "They were going through a lean manufacturing exercise and exploring opportunities with suppliers that could do small quantities with just-in-time procurement."
The J-Crate concept is simple: rather than the typical all-wood crate normally used to transport large items, PACT's solution comprises a wooden base surrounded by sturdy yet pliable corrugated material. The lightweight shipper saves on transport costs and, since it can collapse to be barely wider than the base wood component, takes up exponentially less space than standard crates. J-Crates also eliminate end-of-life disposal fees associated with wooden crates, as its materials can be recycled, repurposed and reused several times over.
Crucially, the J-Crates also would help PVA reduce crate construction labor costs. Designed to fit into the larger push for lean manufacturing processes, the corrugated crate features a simplified fold-out process that can be customized to the size and shape of individual products.
"Crate construction that took an hour or more suddenly took minutes," said Hart. On average, PACT was able to reduce PVA's crate construction labor costs by 30 percent. PVA took the plunge on a trial basis. Five years later, the interim tag has long been removed from its relationship with PACT.
"Some of the crates save thousands of dollars in shipping fees for air transport," said Hart. "And the fact that they're collapsible allowed us to place vertical racks in the warehousing facility, drastically limiting the amount of overall space we require. Today we need only about half as much space as we did previously."
The two companies also have incorporated a real-time data sharing system whereby PACT can remotely determine which J-Crates have been used and replenish them according to need – a just-in-time replacement strategy that further reduces PVA"s warehousing space needs. PVA also has realized gains in an area it hadn't initially set out to improve: product protection.
Prior to engaging PACT, damage to its equipment during shipping hadn't been a significant problem for SVA… but it certainly happened on occasion. Since switching to J-Crates, however, the company has seen its damage ratio dwindle to a figure about as close to zero as possible. "The rate of items that incur damage," said Hart. "is precisely 0.007 percent."
While certainly sturdy enough to deflect blunt impacts, wood has a drawback: it's a natural reverberator. Like a baseball bat stinging a hitter's hands upon contact, it has a high vibration rate. Corrugated material, on the other hand, absorbs force, so it's not only lighter but more forgiving as a protective material.
"PVA continues to utilize Pact for all of our global shipments," said Hart. The less-is-more approach has paid dividends across the board.