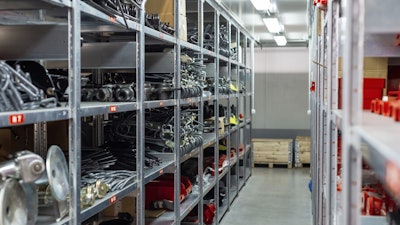 MRO inventory issues have long-existed as a silent problem for industrial businesses. Spare parts tend to hide in the nooks and crannies of a manufacturing plant – a sizeable volume of which will never see the light of day again. A 2011 study conducted by Grainger Consulting Services estimated that, of the $110 billion spent that year on MRO products, about $12 billion of it would never get used.
At the time, Grainger suggested that about half of US businesses weren't effectively managing spare parts so it stands to reason that the problem may have gotten worse for some manufacturers, considering the pressures of a strong economy mean greater fears of downtime. And with these fears, no doubt, come maintenance managers who feel increasingly pressured to hoard spares in preparation for a worst-case-scenario.
But is this necessary, or advisable? Many experts say no, and broad-line industrial suppliers like Grainger and Würth Industry North America are increasingly pointing their customers towards the inventory management services they can offer. With vendor managed inventory programs, key suppliers can ensure a facility's MRO products are stocked to appropriate levels and offer visibility into the entire category as it relates to both spend and usage.
"When you don't have to worry about your inventory, you can focus on business-critical tasks that have significant impact on your bottom line," advises the team at Würth Industry North America, a distributor with customized inventory management solutions available for customers of all types. Wurth cites efficiency, control and transparency as being the primary benefits to taking the vendor-managed approach, and feels companies shouldn't have to give up efficiency and time-to-market goals because they're bogged down with procurement drama.
Likewise, Grainger feels that one of the main problems plaguing maintenance storerooms is a lack of organization. According to Kevin Hartler, Grainger Senior Director of Consulting Service, that's the reason companies tend to purchase 15 percent more materials than they need. Hartler says this leads to an astonishing 30 percent of the materials becoming obsolete over time. "By focusing on optimizing the design of company storerooms and tool cribs, there is a great opportunity to repurpose valuable floor space, making products easier to find and improve the flow of materials in and out," he says.
Wildeck, manufacturer of material handling equipment like mezzanines and lifts, also sees the value of, not just organization, but accessibility. "Make sure to maintain a focus on your environment," urges Dave Milner, Wildeck's VP of Sales and Marketing. "Without a proper approach to storage, thousands of dollars in inventory is at risk of becoming damaged, obsolete or expired. That's why we recommend establishing a storage space with good visibility. Using equipment like mezzanines and lifts allows you to optimize your footprint without burying your inventory in out-of-the-way places where it could be lost or unused. Strategically placed industrial strength guard rail protects your investments in people and property, ensuring that your facility stays fully operational."
Ultimately, tackling clutter, organization and overstock – whether it be with new infrastructure, equipment or layouts, or by securing the assistance of a trusted product vendor – will take money off your shelves and put it back in your pocket. Just how much depends on the depth of your inventory woes. Says Hartler, "Over time, maintenance storerooms become cluttered, inefficient and home to many obsolete and unidentifiable parts. In fact, most organizations have 40 percent more space than they realize."