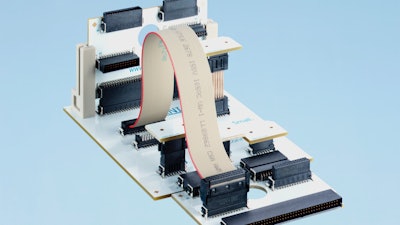 ERNI Electronics
In the past, networking, datacom and telecom challenges were complex and dependent on active and passive component relationships. Chipsets often outperformed their passive cousins due to dielectric board materials, copper I/O modules or backplane connector platforms. This active dominance continued for some time, but then a slow reversal in passive versus active performance occurred.
It was the connector solutions that began outperfoming the active devices that were still in design/development. Copper was not supposed to support data transmission beyond 10Gb, and some experts argued even less performance was possible. But as often is the case, innovation trumps fear of the unknown; science boasts solutions in materials and processing while manufacturing acumen and connector design expertise influences new outcomes and broadens performance horizons.
The datacom/telecom excitement of the late 1990's brought with it a slowdown going into the new millennium, but lessons learned and meeting those design challenges of the past were not wasted. Density versus robustness, pincount versus bandwidth, desired mis-alignment tolerances versus connector outline on the PCBA are the new norm in the industrial factory of today.
The designers within the Industry 4.0 arena are now balancing, or will be, the tradeoffs that were once most familiar in the networking world. Researching your connector solutions may bring with it new names; but stalwarts all the same and some may be founded on the trials and challenges of the past.
Today's industrial communications networks are required to offer higher data rates, often in space constraint environments. As a result, connector designs need to balance signal density and electrical performance with mechanical robustness and physical size.
Performance & Reliability
Robustness often dominates the electro-mechanical challenges designers are most familiar with in the industrial space. However, the solution typically requires a balance that deserves smaller packaging and enhanced performance as well as a proven interface and reliability for the long term.
These requirements are becoming prevalent in order to support design challenges that include higher pincount options without compromising more demanding electrical requirements throughout the network or within the system/enclosure in which the connector solutions are employed.
Other enhancements include innovative shield designs for improved noise immunity and shielding effectiveness to further combine electrical and mechanical design objectives.
A Balancing Act
Because industrial communications networks need to handle more data in often less space and at increasing speeds, connector designs need to balance signal density, mechanical robustness and electrical performance. I/O solutions are an obvious starting point since they continue to take the brunt of the mechanical challenges in the industrial world, but many are meeting these new challenges in familiar packaging.
The M8/M12 defacto-standard interface is one example where density is being optimized with electrical performance and robustness. Offerings including 12 and 17 positions in the familiar M12 size, which provides new design opportunities and added functionality where needed.
The IP67/68 ratings are a continued benefit of this I/O family but so too are enhanced shield designs, SMT termination options and integrated strain relief features. Newer extensions provide a mechanical option to the more legacy Modjack I/O offerings, while supporting differential and inter-pair shielded conductors for GbE applications being employed between devices, systems, and sensing devices.
I/O is not a unique demand in the new factory. More in demand are board-to-board connections for improved functionality in less space.
Popular today are connector solutions offering 1.27 mm pitch, SMT terminations and integrated strain relief features. Design challenges may require a perpendicular or 'backplane/midplane' applications and coplanar board to board in order to achieve optimal design requirements in an allowed space.
Mezzanine applications are also becoming more popular in order to achieve maximum functionality in equal or less space. Choosing a proven connector family with various configurations to support your mechanical design can result in a shorter design cycle and improved time to market.
As board space becomes more dominant when choosing the right connector system, new offerings achieving 1.0mm and 0.8mm pitch are becoming a realizable option for factory automation requirements.
Critically important is a connector design that supports robustness and ease of assembly to complement those interconnect improvements discussed above. Blind-mate features and polarization on the mating interface, as well as the PCB placement, are important connector aspects for use in industrial environments.
Properly designed smaller form factor connectors should not compromise mechanical robustness or reliability of the interface. Products meant to perform reliably throughout a longer operating life require a well designed and tooled dual-beam female contact to ensure a safe and dependable connection in the most stringent of environments.
With all of the requirements that a designer is being challenged with, one need to keep in mind is the inherent and opposing tradeoffs on electrical and mechanical performance.
Lastly, a design criterion that is becoming more important is space, and thus the size of connector solutions. Data rates are infringing on performance objectives, and the ability to mitigate noise in smaller spaces is a key objective.
Density optimization aside, a properly selected connector family should be able to support data rates exceeding GbE and USB 3.1, while offering improved shielding effectiveness even at lower frequencies. Connector designs that place shielding effectiveness and Electromagnetic Compatibility (EMC) as a priority and integrated part of connector design can optimize design and packaging benefits.
Properly designed connector solutions minimize noise influences and offer improved immunity to interference by the adaption of low impedance shielding designs.
Benefits will be realized in faster edge rate applications associated with high-speed data, as well as low frequency signaling that can also affect neighboring devices and/or noise emission standards.
Results of integrating shielding into the connector chosen can be the reduction in costly design challenges (time to market) and often the removal of large shielding components to comply with design and emissions standards.