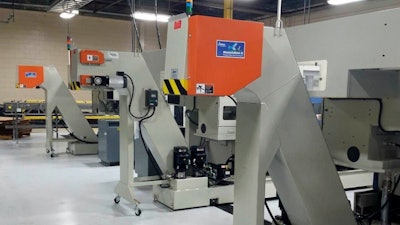 A Detroit-based tier one supplier of parts to the automotive industry operates many Automated Twin Spindle CNC turning machines.
The material the company turns creates a very gummy, stringy entangled nest of chips, therefore the conveyors were jamming and failing to remove these large balls of chips. Damage to the conveyors was occurring, and at least one conveyor incurred downtime daily that lasted an entire 8-hour shift.
After researching their problem online, their maintenance manager found a Jorgensen Conveyor YouTube video about the Munchman II Conveyor and made a few phone calls.
Engineers from Jorgensen Conveyors visited them in person and took measurements of the part samples, measured the machines for conveyor fit up and assessed the type of material causing all the issues, which was a Mild Steel.
MunchMan II employs two conveyor belts through the lower curve, incline and discharge sections of the conveyor. This enables successful removal of the large stringy balls of chips that had been jamming the old single belt conveyors on these turning machines.
The conveyor also incorporates Jorgensen's patented UVS-EcoLogic Control which provides constant load monitoring to protect conveyor motor and drive train components from damage in a "conveyor jam" condition where excessive torque on the conveyor may occur. The control also features an automatic jam-clearing sequence of conveyor operation for increased uptime.
After a successful installation and run-off, the company decided to put MunchMan II on all their existing machines and advised their machine tool suppliers that they wanted it on any new machines they order going forward.
For more information, visit www.jorgensenconveyors.com.