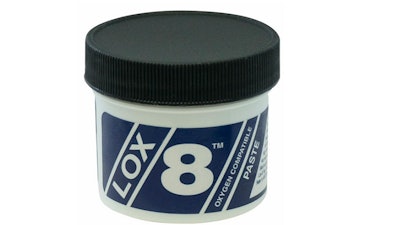 Fluoramics, Inc. (Winona, MN) introduces LOX-8 Paste, now being used in water treatment plants as a proactive measure to ensure lasting seals in pipes and threaded joints. The halocarbon-based Polytetrafluorethyene (PTFE) paste is able to withstand both extreme temperatures and high pressures, providing superior performance as a thread sealant where safety, aggressive chemical resistance and extended service life is required. LOX-8, already widely used throughout industries including medical, cryogenic, nuclear, and other high-tech fields, has been found to provide water treatment facilities with a reliable, long lasting seal for each threaded connection. Other features include:
Oxygen-compatibility and imperviousness to hypochlorite and chlorine used in water treatment.

A specific formulation for wet conditions and does not harden, so that it will retain its resiliency and eliminate the risk of cold flow.

No need for expensive emergency repairs that coincide with finding and fixing a preventable leak, extending the life of a facility, lowering operational costs, and reducing potential water damage, contamination and waste.
www.fluoramics.com; 800-922-0075