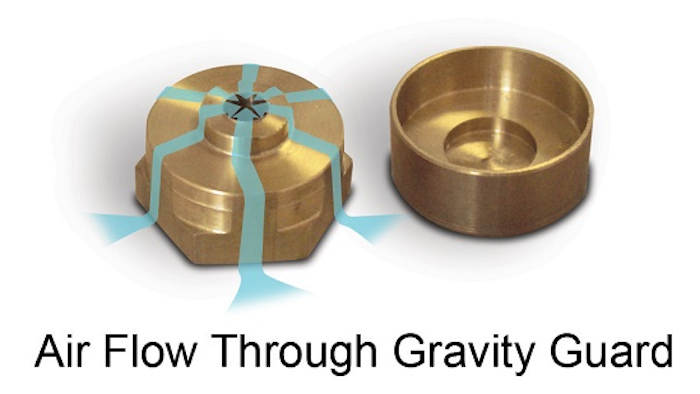 Oil-Rite Corporation (Manitowoc, WI) introduces a specially designed gravity guard vent, which minimizes the risk of dirt, dust or moisture reaching the contents of a reservoir through an externally-mounted liquid level gage. Liquid level gages are attached to reservoirs and display the amount of fluid that the reservoir contains. The gage needs to be vented to function properly and many times this venting is done to the atmosphere, potentially exposing the fluid to contaminants.
The equipment used to monitor the fluid level is simple and effective. A brass liquid level gage attaches to the side of a reservoir using a single connection point. Fluid from the reservoir fills the glass tube of the gage to the same height. In order for the levels in the reservoir and gage to work in unison, they must be subject to the same atmospheric forces. This is achieved by venting the gage to the surrounding air.
A path that allows air in may also allow contaminants in. The size of the vent opening can be minimized in an effort to prevent dirt and moisture from entering. A smaller opening also increases the risk of being covered or plugged by those same contaminants. The gravity guard vent minimizes this risk without the use of a filter or the need for frequent inspections and maintenance.
This product was first utilized in a power plant that uses coal as a fuel source. The gage is unaffected by fine coal dust suspended in the air and periodic wash downs. Liquid level gages with gravity guard vent are suitable to recycling operations, rock crushing, mining, food processing and other environments where dirt is prevalent or wash down is required.
www.oilrite.com; 920-682-6173