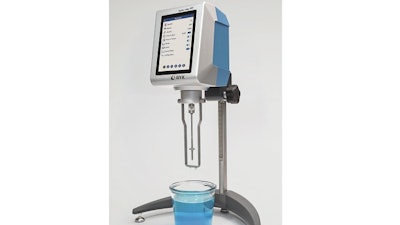 BYK-Gardner GmbH (Geretsried, Germany) is announcing the new byko-visc RT Rotational Viscometer. The byko-visc RT is the instrument for precise measurement results with each test condition recorded for detailed results analysis and review. This precision is repeatable day-to-day and instrument-to-instrument thanks to BYK-Gardner's rigorous quality control. An ISO 17025 calibration certificate is supplied with each instrument to confirm this performance. Specifically:

The byko-visc RT offers an intuitive navigation, a multitude of control options, and a large capacitive color touch-screen display, which includes preset buttons to quickly recall often used measuring parameters. These benefits reduce operator time, so less time waiting and more time getting your work done.



Available in two models, the byko-visc RT and byko-visc RT Lite, each feature versatility and compatibility with three different sensitivities and optional accessories.


These models measure viscosity – lacquers, paints, primers, resins, lubricants, pharmaceuticals, creams, lotions, liquids soaps, beverages, dressings, sauces – from a near water-like, very high viscosity to even the most viscous epoxies, sealants and pastes.




The byko-visc RT features an easy snap-on spindle attachment saving valuable operator time while protecting the instrument, and an adjustable stand to allow the user to easily raise and lower the viscometer head. The instrument is ready right out of the box – no assembly needed.