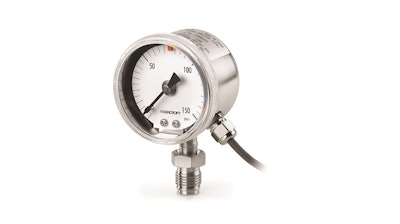 Ashcroft (Stratford, CT) has introduced a new safety feature to one of our popular and trusted high-purity pressure gauges. The Ashcroft 50 mm HPS high-purity pressure gauge with Reed Switch is ultrasonically cleaned to provide exceptional quality and reliability in ultra-high purity gas delivery systems.
The Reed Switch capability provides an additional safety feature through actuating an internal switch that triggers an alarm or a process condition change. It's an ideal choice for reducing installation costs and providing an added space reduction benefit.
The gauge features stainless-steel construction and wetted components that are ideal for use with industrial gases in semiconductor and electronic manufacturing. It's Helium leak tested to 1 x 10-8 scc/s, cleaned in class 10,000 cleanroom and packed in a Polyethylene-sealed bag after nitrogen gas flushing.
www.ashcroft.com, 800-328-8258