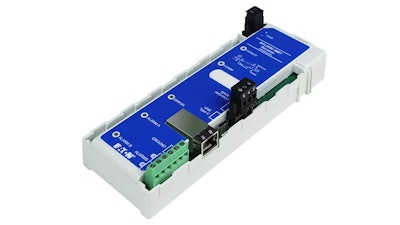 Power management company Eaton (Beachwood, OH) has announced a new addition to its proven MTL830 range of multiplexers for Zone 0 hazardous area temperature measurement applications. The next generation MTL838C-MBT temperature multiplexer receiver features an integral Ethernet port that makes connectivity easier and simpler: reducing integration requirements and thereby reducing time and costs.
Using MODBUS TCP, the MTL838C-MBT temperature multiplexer offers an intelligent solution to process monitoring, improving productivity through simpler system integration to modern automation systems and enabling cloud connectivity for the analysis of big data and temperature trends. The MTL838C-MBT is also PC-configurable, making initial set-up and subsequent adjustments – for example at product changeover – easy to achieve.
By using two transmitters and one MTL838C receiver, an Eaton multiplexer system can communicate the status of up to 32 inputs, reducing the number of hazardous area wiring pairs from 32 to one. With no need for special data highway cabling, and shorter thermocouple and instrumentation cables, the MTL838C can deliver significant cost and time savings, as well as reducing space and weight requirements – making it an attractive option for temperature monitoring in chemical processing and oil & gas applications.