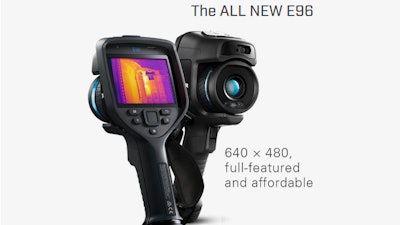 It takes the right tool to quickly identify potential points of failure in an electrical, manufacturing, or building environment, especially since many components are challenging and sometimes dangerous to reach. That's why the new FLIR (Wilsonville, OR) Exx-Series of pistol-grip handheld thermal imaging cameras are the right tool for the job. Available in four models, the new FLIR Exx-Series can help you:
Capture crisp, detailed thermal images with up to 640 × 480 true native pixel resolution and patented FLIR MSX technology.

Use FLIR Inspection Route camera mode to guide you along a defined route.

Plan, create, and export inspection routes using software to speed up post-processing and reporting.

Efficiently document problems using built-in text and voice annotation and customizable work folders.

Measure temperatures up to 1500°C (2732°F).

Save time with interchangeable, auto-calibrating lenses on the E76, E86, and E96.
www.flir.com; 877-773-3547