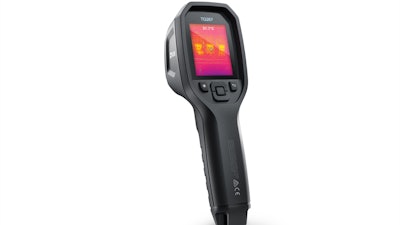 FLIR Systems, Inc. (Arlington, VA) has announced the FLIR TG267 thermal camera for electricians, HVAC/R technicians, building inspectors and mechanical engineers. This feature-rich addition to the entry-level TG series line offers improved sensitivity and resolution to help professionals dramatically reduce diagnostic time and begin repairs more quickly. Specifically:
The versatile, rugged FLIR TG267 enables professionals to inspect equipment and identify problems from a safe distance by visualizing the hot and cold spots that can indicate larger issues.
From electrical connections to mechanical breakdowns within a temperature range of minus 25 degrees Celsius (C) to 380 degrees C [minus 13 degrees Fahrenheit (F) to 716 degrees F], users can troubleshoot failing systems and then can provide customer reports with images that document the repair.
The TG267 adds contact measurement with a Type K thermocouple probe for temperature readings.

The FLIR TG267 is built around a 160×120 FLIR Lepton thermal sensor and features proprietary image processing algorithms for the highest quality image. FLIR's patented Multi Spectral Dynamic Imaging (MSX) dual-camera technology embosses details from the built-in visual camera over full thermal images for added sharpness and perspective.
The FLIR TG267 features a multipoint laser pointer to clearly indicate the area measured, as well as a bright LED flashlight for working in dark, difficult-to-reach spaces.